Brighton and Hove Albion's success in the quarter-finals of the FA Cup means that we now finally know how many teams will blank in Gameweek 33.
The Seagulls came back from two goals down against Millwall on Sunday to force extra-time and penalties, running out 5-4 winners in the subsequent shootout.
With the FA Cup semi-finals taking place on the same weekend as Gameweek 33, eight sides will be without a Premier League fixture that weekend: Brighton, Manchester City, Wolves, Watford, Spurs, Cardiff, Manchester United and Fulham.
The six remaining fixtures that will take place are: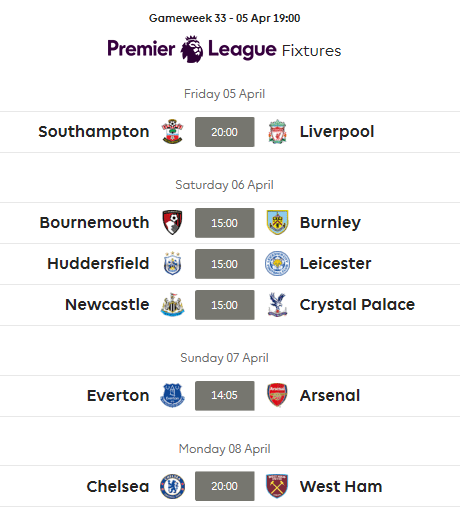 The article that went out yesterday evening goes into more detail as to the ramifications of the other three quarter-finals.
As for Brighton, they had three top-flight fixtures that needed rescheduling as a result of clashes with the two domestic cups: Chelsea (a), Cardiff (h) and Spurs (a).
One of those matches has already been rearranged.
Spurs announced after full-time at the Den that they will entertain Brighton in Double Gameweek 35 and Crystal Palace in Double Gameweek 32.
The fact that Chelsea are still in European competition means that the Seagulls' outstanding meeting with the Blues could very well be rescheduled for Double Gameweek 32 (there are no Europa League ties in that free midweek).
Albion's home match against Cardiff would appear likely, then, to fall into a separate Double Gameweek later in the season.
We will likely get confirmation of this in the next few days.
Spurs' rather mixed Double Gameweek schedule looks like this:
GW32
Liverpool v Spurs
Spurs v Crystal Palace

GW35
Man City v Spurs
Spurs v Brighton
Palace's Double Gameweek 32 is as follows:

GW32
Crystal Palace v Huddersfield
Spurs v Crystal Palace
Finally, Brighton's rather unappealing Double Gameweek 35 is comprised of:
GW35
Wolves v Brighton
Spurs v Brighton
We'll have more on the Seagulls' FA Cup quarter-final itself in our Scout Notes tomorrow.