For the final time this season, we have assessed which Fantasy Premier League options are the most deserving of the captaincy.
Manchester City and Liverpool are the only two remaining sides with something to play for other than pride so the interest from the masses has generally been in them.
However, we have looked at the form of their own players as well as the challenges posed by the opposition and discovered that the Gameweek 38 debate is far from simple…
Captain Poll
It's Sergio Aguero (£11.9m) who tops the captain poll for the final time this season. 29.5% of you believe that he is the best skipper for Gameweek 38 as Manchester City travel to Brighton. The Argentinian scored on his last away trip, netting the only goal of the 1-0 win over Burnley. Aguero was also on the scoresheet when Brighton lost 2-0 at the Etihad Stadium earlier this season.
He currently has roughly a 7% lead over colleague Raheem Sterling (£11.7m) who sits in second place with a backing of 18.9%. The Englishman has gone four matches without a goal now but earned himself an assist in the 2-0 win over Manchester United. Interestingly, in this season's away fixtures, Sterling and Aguero both have five goals each, although the former has double the latter's total of assists.
Sadio Mané (£10.2m) is the marginal favourite from the Liverpool assets with 12.5% of the vote. That may be because of his more reliable record at Anfield over a longer period of time. Ahead of Wolves' visit to Merseyside, the Senegalese international has 12 goals in his last 11 home Premier League matches.
However, Mohamed Salah (£13.3m) has recently rediscovered his shooting boots and has recorded attacking returns in each of his last six, regardless of venue. That continues to be his longest period without a blank all season. 12.3% of voters have lent their support to the Egyptian, so he could overtake Mané by Sunday and, of course, managers are still waiting for an update on his fitness after suffering a blow to the head against Newcastle.
Next up is Aymeric Laporte (£6.3m), who actually led our poll in the first few hours of it being set up. Now that more of you have swung by to cast your vote, the Frenchman has fallen to fifth but still has 8% backing. It's not surprising to see Fantasy managers talking about captaining a Manchester City defender given that they now have ten clean sheets in their last 12 Premier League matches. Furthermore, Brighton's troubles in front of goal has seen them score just once in their last four at home.
Just below 'best of the rest' option Laporte is Southampton midfielder Nathan Redmond (£5.5m). Given that the Saints are the last team to host Huddersfield this year, his 4.2% support makes sense, especially as the midfielder has two goals and two assists in his last five home matches.
Also with an appealing fixture in Gameweek 38 is Manchester United, but once again, their poor form has curtailed interest in their Fantasy assets. Paul Pogba (£8.5m) is the most popular of them but has just 2% of the vote in the captain poll.
Trent Alexander-Arnold (£5.7m) is the only other defender in the top 10 ahead of the showdown with Wolves. He has the interest of 1.4% who are probably eyeing up his attacking threat, especially after what he did against Barcelona in midweek.
Bernardo Silva (£7.8m) is being considered by a small portion as a differential in the Manchester City camp as he has three attacking returns in his last four away trips in the league. The Portuguese midfielder is also on 1.4%.
Callum Wilson (£6.8m) completes the top 10 with his 1.3% support ahead of a trip to Crystal Palace.
Eden Hazard (£11.0m), Jamie Vardy (£9.0m) and Wilfried Zaha (£6.9m) are the only other options with more than 1% backing.
Player statistics – last four matches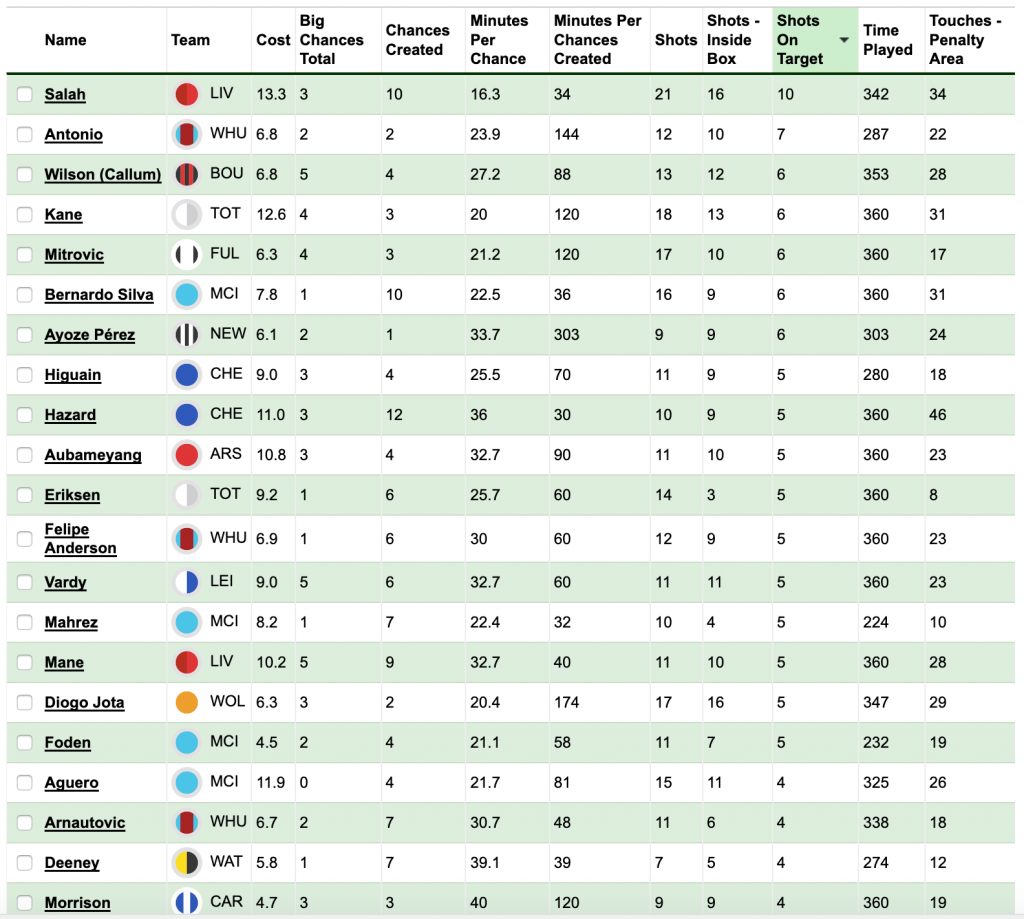 We have to start by saying that poll winner Aguero does not necessarily look in the sharpest form in the last four matches. His total of 15 shots is fewer than colleague Bernardo Silva while 17 players in the league have managed more shots on target in the selected time-frame. That makes for a shot accuracy of just 27%, below his average for the entire season of 36%.
However, Sterling is arguably in worse statistical form. In the last four, he has shot just nine times, in the box on seven occasions and has just three shots on target. That makes for a slightly improved accuracy compared to Aguero (33%) but just like his colleague, it's below his average for the season (48.7%).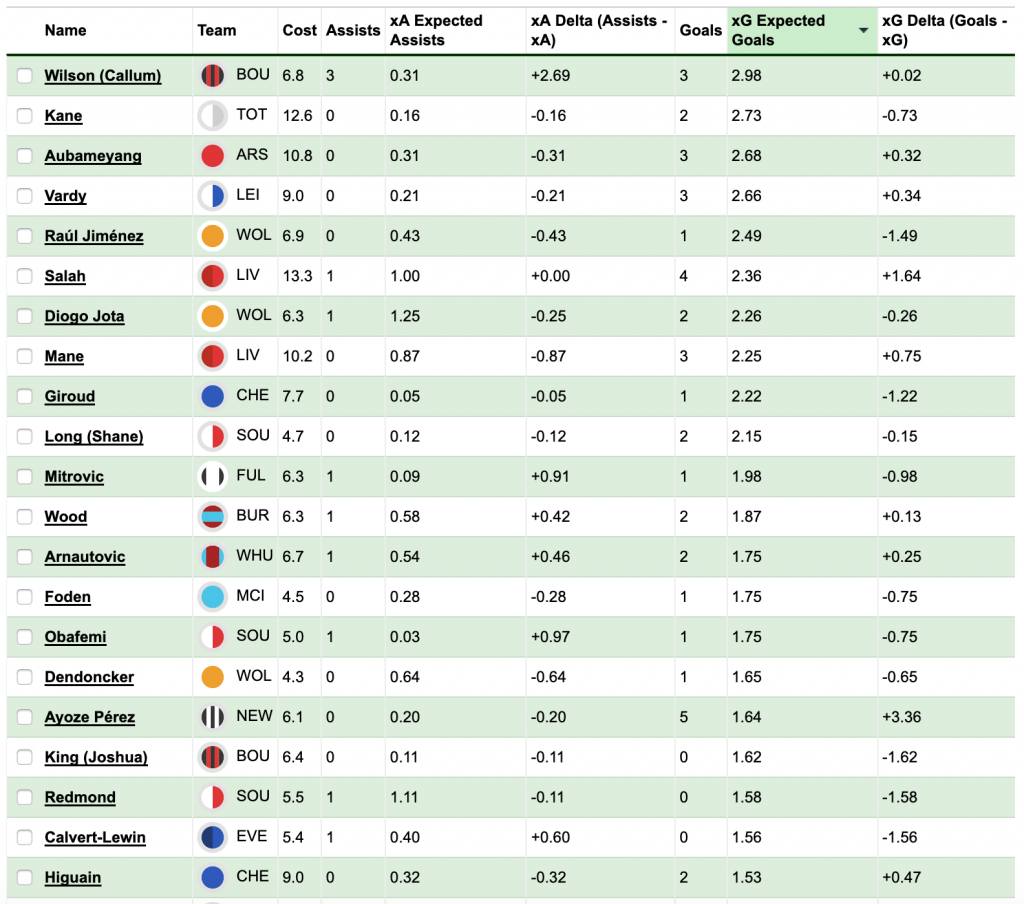 As you can see from the players ranked best for expected goals (xG) over the last four matches, our most popular Manchester City options are nowhere to be seen.
Phil Foden (£4.5m) is one of 23 players with a higher xG score in the selected time period than Aguero (1.43), and one of 29 that rank higher than Sterling (1.25).
Despite notching up more shots and accurate efforts than his attacking colleagues, Bernardo Silva admittedly ranks lower than them both for xG (1.04) but is some way ahead for expected assists (xA) on a score of 1.00.
As we saw from the table above, the last four matches have seen Salah outstrip the entire league for the frequency of his efforts on goal. No player has more shots than his 21, his 16 in the box is a joint-high with Diogo Jota (£6.3m) and his 10 shots on target is three more than the seven recorded by second-placed Michail Antonio (£6.8m).
Meanwhile, Mané has enjoyed fewer shots both overall and in the box than Aguero, but his additional shot on target makes for a much more encouraging accuracy of 45.5% in the last four matches. Furthermore, no player has been afforded more big chances in that time than the Senegalese international (five).
Also, the expected data shows that both Salah and Mané are enjoying higher quality chances than their Manchester City counterparts. Both of them have higher xG scores in the last four matches, their 2.36 and 2.25 good enough for the top eight.
As for comparing the two Liverpool players against each other, it's the same story that we've grown used to this season.

Salah is streets ahead in his last four home matches for the frequency of his efforts on goal and has created more chances too.

However, it is Mané who continues to be afforded the bigger chances, hence his continued advantage in the department of xG. Even Roberto Firmino (£9.3m) has a better score in this department than Salah over his last four at Anfield.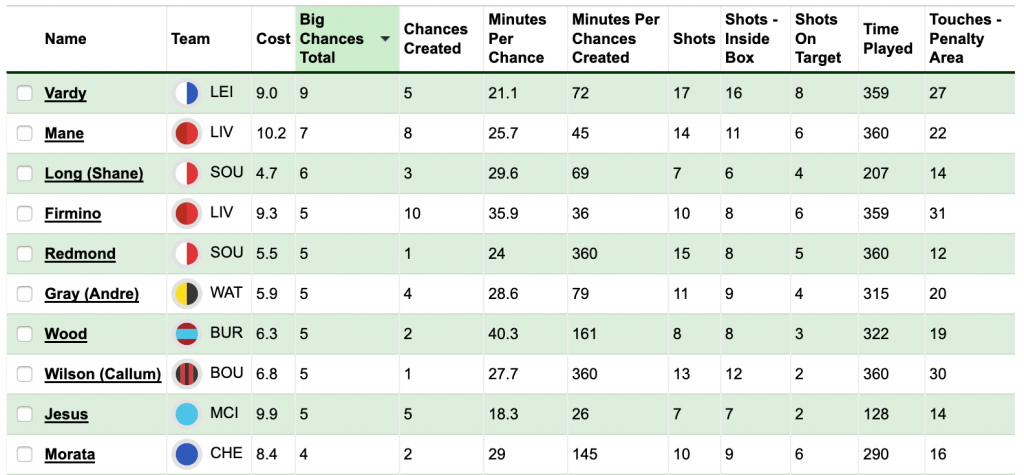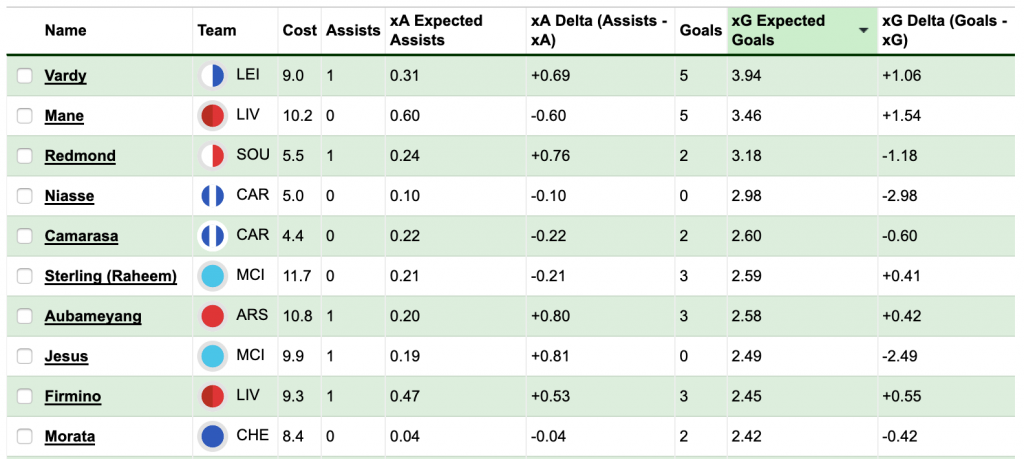 However, it looks as if the Liverpool assets have not necessarily been the division's best in their last four home matches.
As you can see from the tables above, Vardy continues to be in the form of his life, topping a number of key statistics over the last four in front of his own supporters.
The Leicester man is top for shots in the box (16), efforts on target (eight) and big chances (nine).
Furthermore, Vardy also sits at the summit for his xG score of 3.94 in his last four at home.
Also performing well in that department in the same sample is Redmond who is behind only Vardy and Mané with his xG of 3.18 over the last four home matches – particularly encouraging ahead of a match against Huddersfield.
Also, despite limited game-time, only Mané and Vardy have been afforded more big chances in their last four at home than Shane Long (£4.7m). With just 206 minutes in that period, the Southampton man is averaging a big chance at home ever 34.5 minutes.
Two other budget options who have enjoyed quality service of late are Chris Wood (£6.3m) and Andre Gray (£5.9m). Both of them have had five big chances in their last four at home ahead of facing opponents who have defended poorly away from home this season (Arsenal and West Ham respectively).
Conspicuous by their absence so far are the Manchester United options, which are not looking hugely promising even if it is Cardiff they face on the final day of the season.
Pogba is the only one to have shown much threat in their last four at home, but even still does not compare too favourably with some of the options we've already considered.
He has had 10 shots on goal, five in the box and three on target and has at the same time created just three opportunities for his colleagues. Perhaps the only form of encouragement is the fact that he has an xG score of 2.05, but even still that ranks only 18th out of all players in their last four at home.
Meanwhile, Marcus Rashford (£7.3m) has managed just six shots, two in the box and three on target in his last three at Old Trafford, making for an xG of just 0.94 in that time.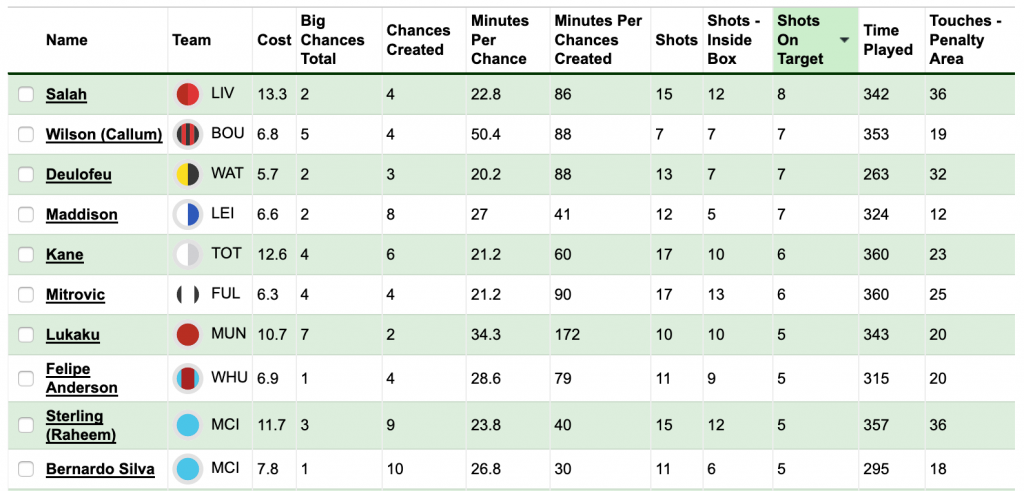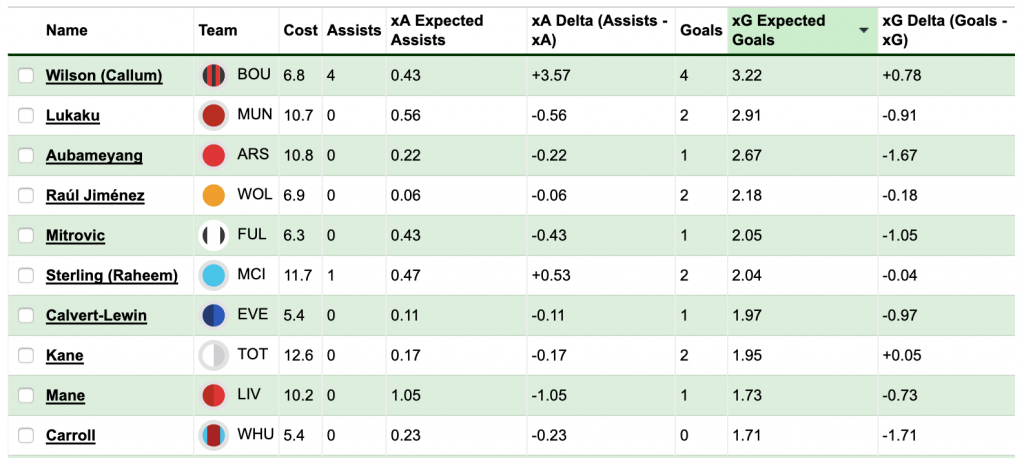 A look at how Fantasy options have done on their travels recently sheds some light on Callum Wilson (£6.8m) as another potential differential candidate.
Salah is the only player with more shots on target than the Bournemouth man across the last four away matches.
Meanwhile, with Romelu Lukaku (£10.7m) unlikely to feature in Gameweek 38, of fit players Wilson is also top for big chances in the last four away matches.
That has also translated into a decent xG score for the forward, his 3.22 the best in the league.
Also doing well in that department over the last four away matches are Pierre-Emerick Aubameyang (£10.8m) on 2.91 and Raúl Jiménez (£6.9m) on 2.18.
Despite some discouragement about the Manchester City options, it is worth saying that in the last four away matches, only five players have a better xG score than Sterling.
Team statistics – Last four matches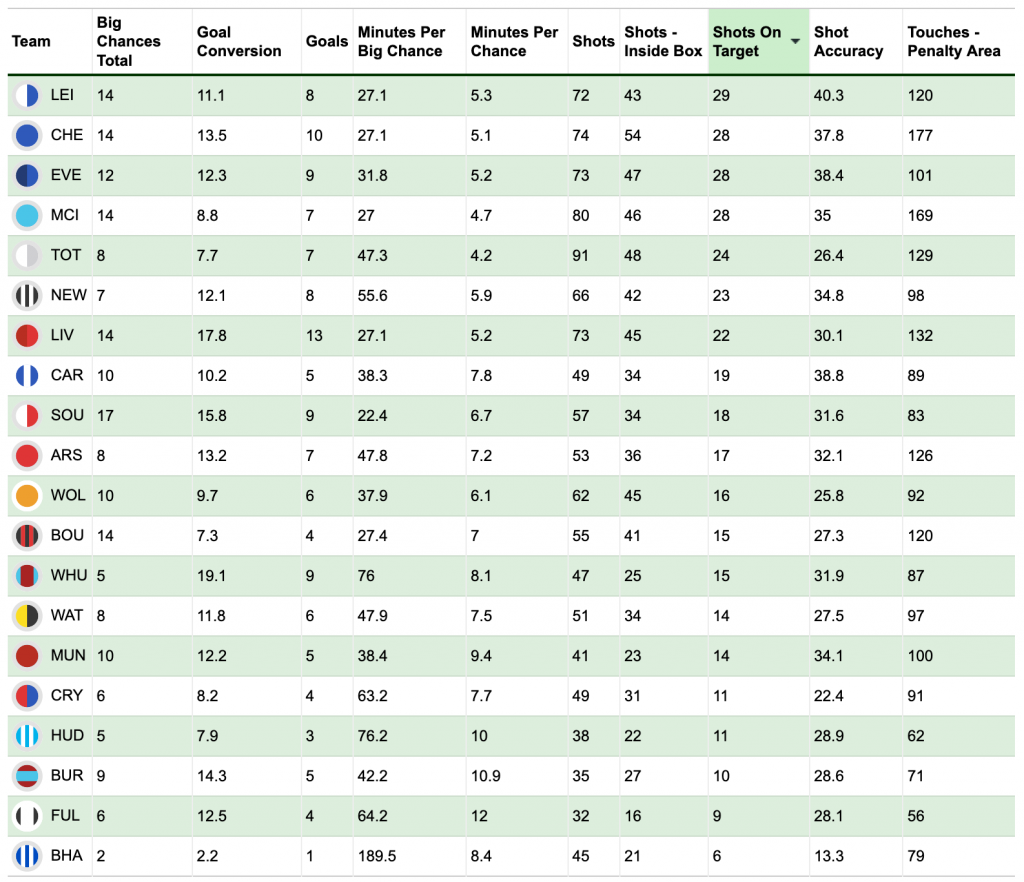 Those considering the differential option of Vardy will take great encouragement from Leicester's form at home of late.
No team has recorded as many shots on target as the Foxes (29) in their last four in front of their own fans.
Furthermore, only Southampton (17) have managed more big chances in that sample than Leicester (14).
That is obviously also encouraging for those looking at either one of Redmond or Long given that Huddersfield are the next and final visitors to St Mary's this season.
However, it is worth pointing out that despite their high number of big chances, the Saints rank just ninth for their 18 shots on target.
Liverpool are another of the sides level with Leicester for 14 big chances in their last four home matches.
They are also in the top five for their 45 shots in the box and are a little below the main players for their 22 shots on target (seventh).
However, those are pretty decent offensive statistics to post in the last four at home considering the wide range of opposition. Obviously netting five against Huddersfield offers little in the way of help for predicting Gameweek 38, but four goals in two matches against Spurs and Chelsea and scoring that many in one game against a typically stubborn Burnley is not to be scoffed at.
However, Manchester United's recent attacking statistics at home are not particularly exciting, even if it is Cardiff who come to Old Trafford on Sunday afternoon.
They sit roughly mid-table for their 10 big chances, are 17th for their 23 shots in the box and joint-14th for shots on target.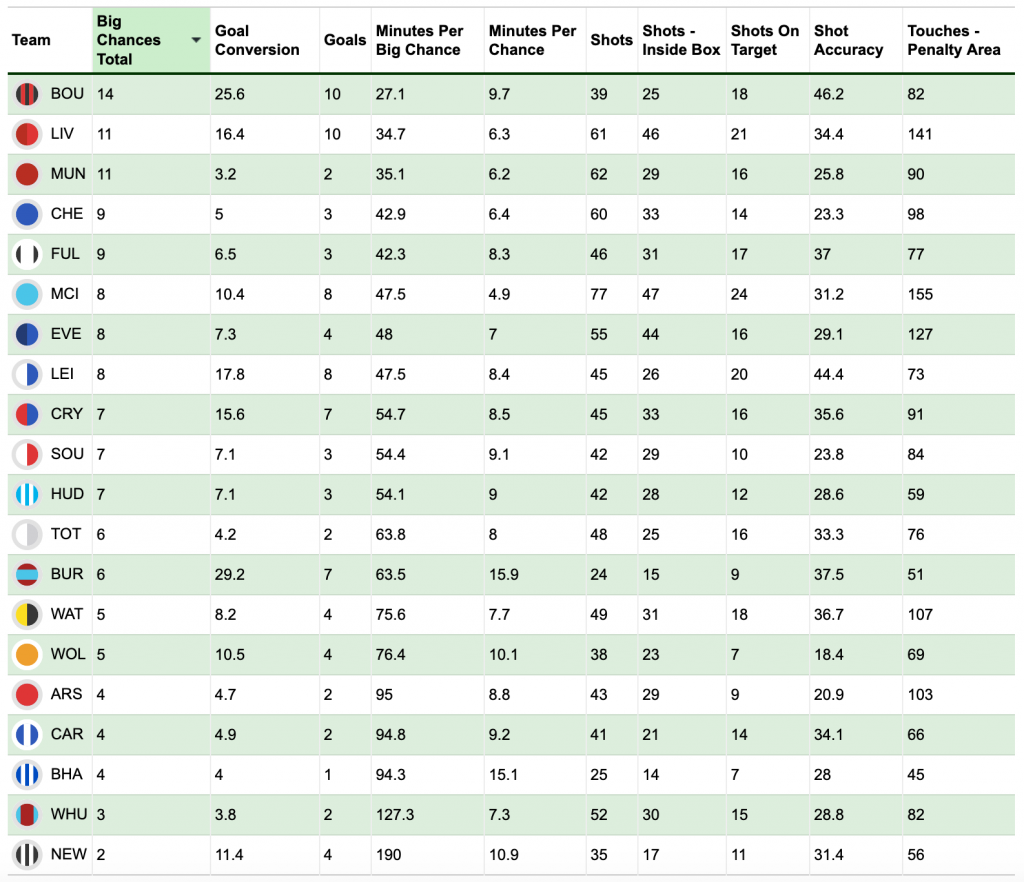 The case for a differential captaincy of Wilson gets a boost when we consider Bournemouth's recent form away from home. No team has managed as many as their 14 big chances across the last four matches on the road – an astounding achievement considering how poor they were outside of the Vitality Stadium earlier this season.
Meanwhile, Manchester City top the charts for shots (77), shots inside the box (47) and shots on target (24) in their last four away matches, which would suggest they will get plenty of chances against Brighton.
However, the fact that they have been limited to just eight big chances, in that time, fewer than even Fulham, might be of some concern. A large number of their recent hosts were ones who largely opted to sit back and stick every man behind the ball, especially Fulham, Burnley and Crystal Palace, and given that seems to be Chris Hughton's default set-up we could see a similar story at Brighton.
With managers considering Liverpool defensive assets as potential outside captain options, Wolves' accuracy issues could play into their hands. In their last four away matches, Nuno's men rank joint-bottom with Brighton for the fewest shots on target (seven).
Opposition statistics – Last four matches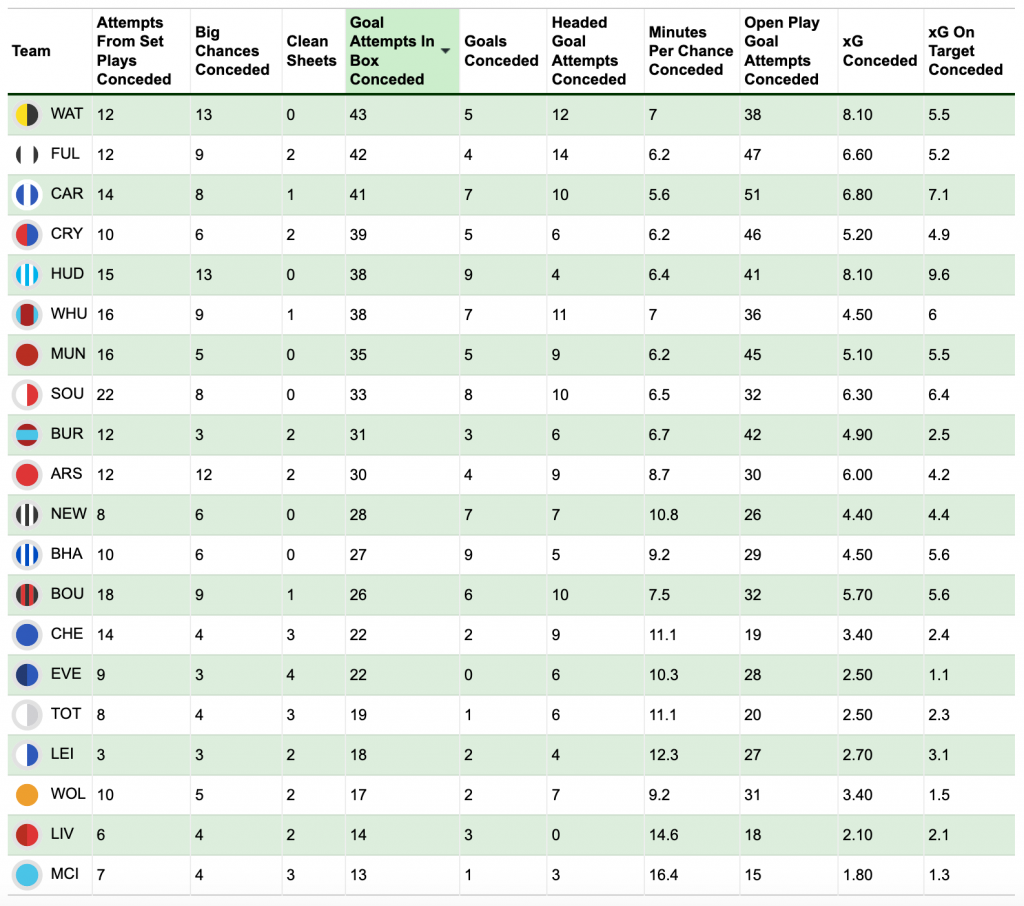 A first glance at Brighton's defence over their last four home matches suggests they are unlikely to keep a clean sheet – although they don't look ripe for a thrashing either.
They are towards the better end of mid-table for their 27 shots conceded in the box in the selected sample of fixtures, and have allowed six big chances.
Crucially, since their morale-damaging defeats to Bournemouth and Cardiff, Brighton have made some improvements.
In their last four matches, they have conceded just three goals, despite facing the likes of Wolves, Spurs and Arsenal and posted impressive underlying statistics too.
Admittedly, they rank 17th for the most shots conceded in the box, but only four clubs have allowed fewer big chances than them in that run – made all the more impressive considering it features three away matches against top-seven opposition.
The only other stand-out side when it comes to home defensive form is Watford. No team has conceded more big chances than the Hornets in their last four in front of their own fans (13), and they have also allowed the most shots in the box in such matches too.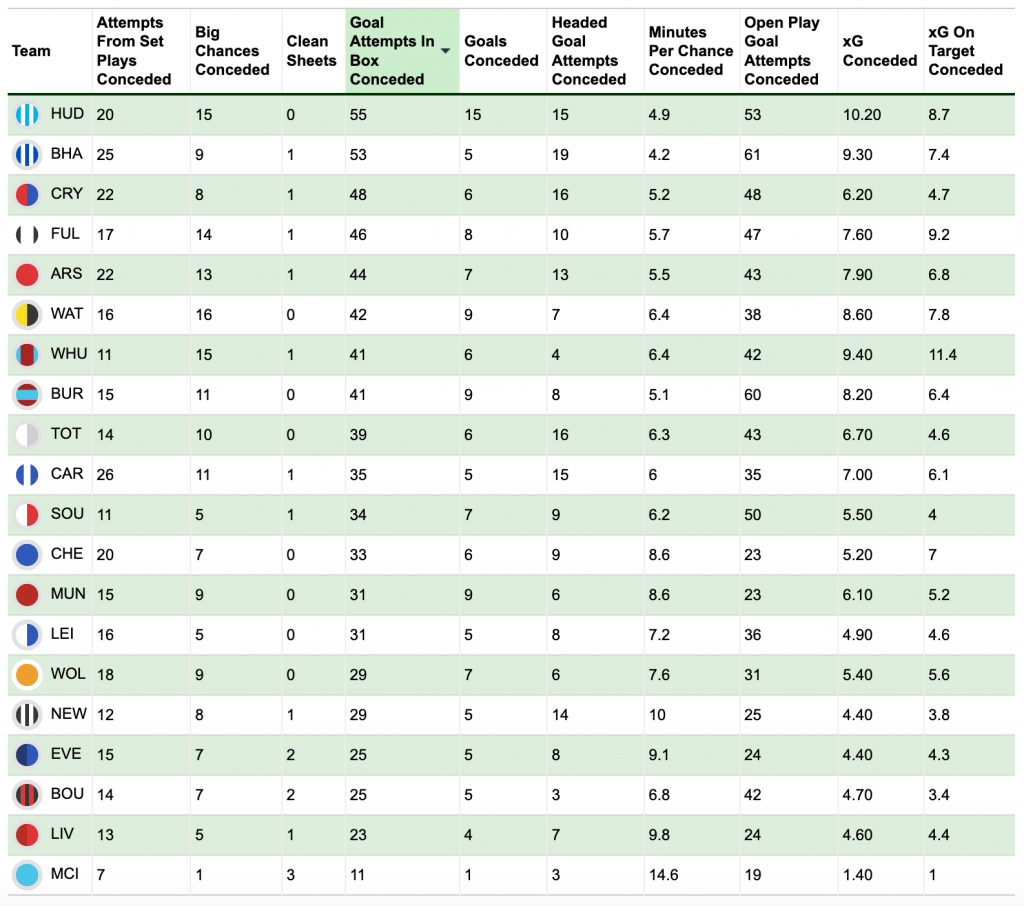 The case for a Southampton player is certainly boosted by Huddersfield's poor away form of recent weeks.
No team has conceded more shots in the box in their last four road trips (55), while only Watford (16) have conceded more big chances (15).
It's worth pointing out that West Ham are still in the lower regions of the big chances conceded section of the table, level with Huddersfield, which suggests a Watford option could also act as a Gameweek 38 differential at Vicarage Road.
Meanwhile, Manchester United's opponents Cardiff are not ranking as poorly as their backers might hope ahead of the final weekend of the season.
Most of the interest in that part of the research will be in that of Wolves, as they travel to Anfield.
Much as is the case with Brighton, Wolves don't necessarily look likely of keeping a clean sheet but definitely aren't set for a thrashing either.
They rank inside the top six for the fewest shots conceded in the box over the last four away matches (29), and are mid-table for the nine big chances allowed in those games.
It must be said that those last four trips, to Chelsea, Burnley, Southampton and Watford were largely not against sides that are close to what Liverpool are capable of at home.
However, in five matches away at top-six clubs this season, Wolves have lost just once – and that 3-0 defeat at Manchester City was suffered after Willy Boly (£4.7m) was sent off after 18 minutes.
What does the RMT tool say?
As the Captain Sensible article has come out before the main bulk of press conferences for Gameweek 38, we are waiting until later today to update it and include it in this article.
Conclusion
The fact that Manchester City and Liverpool are the only sides with anything left to play for this season is certainly a decent reason why they are so heavily backed in the polls.
However, what they have on the line does not necessarily mean they will have an easy time winning their respective matches.
It is clear from analysing the defensive data both of Brighton and Wolves that neither side is threatening to be rolled over.
While it seems quite possible that neither will keep a clean sheet, managers looking for an explosive Gameweek 38 captaincy might have a hard time finding it at the Amex Stadium or Anfield because of the opposition.
Furthermore, Manchester City's attacking options have definitely lost an edge in recent weeks as the defending champions have shifted to a more possession-based clean-sheet securing path to victory.
That may be why captaining a Manchester City defender might actually appeal to some more than Aguero and Sterling, whose underlying statistics in the last four matches are not as good as we'd like.
If either of the title-winning sides are likely to produce a mauling, it is probably going to be Liverpool.
That is mainly due to how effective their assets have been both in the last four matches and in recent home encounters.
Salah is top of the league for the sheer frequency of his attacking actions both inside the box and out of it, while Mané's 12 goals in 11 Premier League matches at Anfield offers exceptional reliability.
But, of course, there may be the matter of Wolves' impressive record against the top-six putting managers off, with one win, three draws and just one defeat in five away trips to such opposition this season.
For all of these reasons, there is a strong chance that Gameweek 38's top points-scorer will come outside of the two Premier League title-related games.
Jamie Vardy is certainly the most in-form option even if he blanked against Manchester City on Monday night. The fact is that the Leicester man has been devastating in home matches recently and with his impressive underlying statistics, and Chelsea's lack of clean sheets on the road in 2019, his scoring run should continue this weekend.
Furthermore, the Foxes should be considerably fresher than Chelsea, after their Europa League exertions on Thursday night.
Southampton's attacking pair of Redmond and Long certainly look to be offering plenty of points potential for Gameweek 38 too.
Both players have been enjoying encouraging underlying statistics at home while Huddersfield have been dreadful on their travels.
Meanwhile, it's Callum Wilson who has been lighting things up in away matches recently and with Crystal Palace struggling to match their road form with their home displays, there's every chance the Bournemouth man can have the last laugh at Selhurst Park on Sunday.
Manchester United options will clearly be differentials considering their poor performance in the polls, which may convince some to hand them the armband.
However, it would appear that the voters have stayed away with good reason. Very few of the Red Devils have offered decent form in recent weeks and their Gameweek 37 showing against Huddersfield was proof if ever thas any that in order to capitalise on appealing fixtures, there must be some form in order to do so.