It already looks as if Norwich City attackers have the potential to offer value in Fantasy Premier League next season.
Daniel Farke's exciting and attractive style of football has paid dividends in the Championship this season and, given their defensive shortcomings, scoring goals will have to be the aim if they are to stay up at the first time of trying.
There has already been particular interest in options such as Teemu Pukki and Emi Buendía, so we've included them in our review over whether the Canaries can trouble Premier League defences next season.
What is Norwich's goal-scoring potential?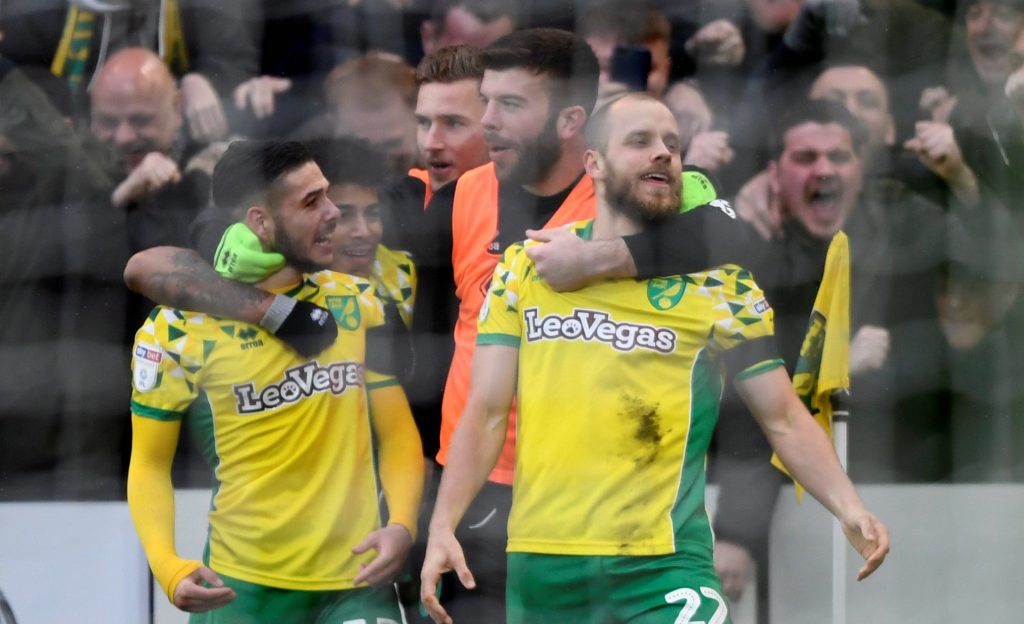 Norwich do look like the sort of team that can score goals in the Premier League in 2019/20. They finished their title-winning Championship season having found the net 93 times across 46 matches. That was the third-highest tally scored in the second tier of English football since it was rebranded as the Championship.
The two teams to have bested them in that department were Bournemouth (98) in 2014/15 and the Reading record-breakers (99) of 2005/06. Crucially, both of these teams went on to have encouraging debut campaigns in the top-flight, the Cherries ranking 12th for their 45 goals in 2015/16 and the Royals joint-sixth for their 52 in 2006/07. As Norwich are coming up with similar goal-scoring pedigree, we should not be surprised to see them finding the net next season.
We already know that Farke is keen on keeping the same possession-based style characterised by passing and movement when the Canaries come up into the Premier League. It was certainly effective in the Championship as the underlying statistics showed.
Only Brentford (12) and Leeds United (13.3) recorded more key passes per game than Norwich's 11.4. Only Reading (10.1) bested their 9.2 dribbles per match and their technical ability ensured the Canaries were top for fouls won per game (14.3) too.
Of course, this also translated into impressive goal threat too as they were second only to Leeds (17.2) for their 15.4 shots per game, second only to Marcelo Bielsa's men (nine) for their 8.7 shots in the box per game and top of the league for 5.5 shots on target per game.
Obviously, we can't read too much into that data given that it was recorded against lesser opposition but Farke's men have certainly demonstrated an ability to score against Premier League sides this season. They faced top-flight clubs twice in the League Cup, both away from home, netting three times at Cardiff in the second round and once at Bournemouth in the fourth.
Naturally, Carrow Road was where Norwich scored the majority of their league goals in 2018/19. They found the net 51 times in front of their own fans, at an average of 2.2 goals per game, the second-best in the league. Meanwhile, the Canaries were the top-scorers on their travels too, netting 42 times in 23 matches.
An area of concern for Norwich has been their penalty situation as they still don't really have a recognised taker. They had a rotten campaign from the spot in 2018/19 with just one of their six penalties ending up in the back of the net and five missed.
Top-scorer Teemu Pukki took just one this season, which he missed, while Jordan Rhodes failed to convert either of the two he stood up for. Mario Vrancic was the only Norwich player to score a penalty this season, but he also missed one too. An injury for the Bosnian meant that Pukki and Marco Stiepermann took the next two and missed them both, although Farke praised the latter for what he showed in training from the spot, criticising him in equal measure.
"Marco has scored something like his last 25 in training and I was convinced he would score. To be honest, I am annoyed. We have missed so many in a row and then you are 2-0 down, a wet pitch and it should be a low penalty, not the height he hit it because it gives the goalkeeper a chance to save it." – Daniel Farke
Pukki's incredible scoring record might see Farke trust him with penalties in the Premier League, although for now it looks as Moritz Leitner could be the man to have a stab. After Pukki's miss in November, he said he was next in line, although missed much of the rest of the campaign through injury.
"I'll take it, that's all I need to say. I think the next one I will take. In the national (youth) team I took penalties, and I also won the derby against Schalke when we won the Super Cup final (in a shoot-out), I scored my one." – Moritz Leitner
In February, the Eastern Daily Press ran a poll on their website asking fans who they wanted to take the next Norwich penalty, here were the results at the time.
Teemu Pukki – 39%
Emiliano Buendía – 20%
Moritz Leitner – 18%
Onel Hernandez – 8%
Other – 7%
Tom Trybull – 3%
Timm Klose – 3%
Marco Stiepermann – 2%
Player-by-player
Teemu Pukki
Starts: 43 | Substitute appearances: 0 | Goals: 29 | Assists: 9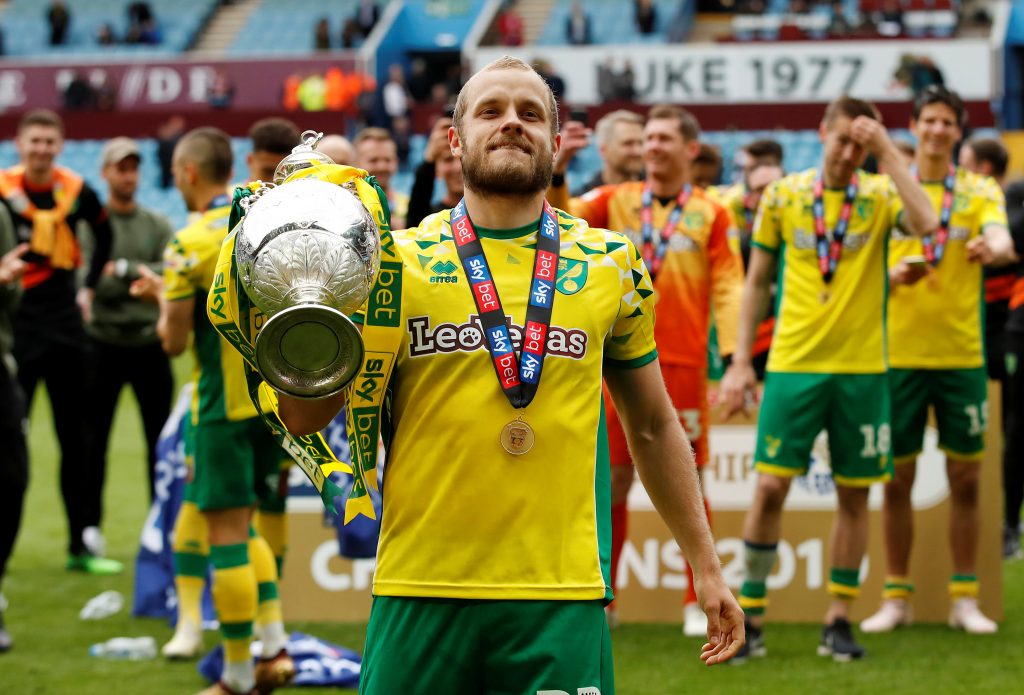 The fact that Pukki managed to score 29 goals without contributing a single penalty indicates just how threatening he really is. The last player to win the Championship Golden Boot with more strikes than the Finnish international was Glenn Murray for Crystal Palace in the 2012/13 season, so he really has been a hugely impressive figure in the Football League in 2018/19.
Naturally, Pukki claimed a place in the Championship team of the season and also won FourFourTwo's poll for best player in all of the EFL. The question now is, of course, can he still deliver in the Premier League?
Operating as the lone forward in a 4-2-3-1 system, he earned his 29 goals this season through impressive underlying statistics compared to the rest of the league. Pukki was joint-top for shots in the Championship this season with 144. Importantly, he was also shooting in the right place as nobody really came close to his 108 efforts in the box. That was 24 better than the next best in Brentford's Neal Maupay. The Frenchman (63) and Aston Villa's Tammy Abraham (61) were the only players to manage more on target than Pukki's 57. He was also third for blocked efforts (43) behind only Tom Ince (45) and Joe Lolley (47).
| | | | | |
| --- | --- | --- | --- | --- |
| | Goals | Total shots | Shots in the box | Shots on target |
| Teemu Pukki (18/19) | 29 | 144 | 108 | 57 |
| Matej Vydra (17/18) | 21 | 74 | 44 | 32 |
| Chris Wood (16/17) | 27 | 106 | 67 | 44 |
| Andre Gray (15/16) | 25 | 109 | 75 | 42 |
| Daryl Murphy (14/15) | 27 | 164 | 124 | 66 |
| Ross McCormack (13/14) | 28 | 144 | 68 | 57 |
| Glenn Murray (12/13) | 30 | 108 | 87 | 61 |
Furthermore, Pukki compares very favourably against previous Golden Boot winners. Since Murray's 30-goal campaign, only Daryl Murphy bested the Norwich man for shots or shots in the box, while only the Ipswich man and Murray registered more efforts on target than Pukki.
Fantasy managers will recognise several names from that table, notably, Murray, Andre Gray, Chris Wood and Matej Vydra, all of whom have played Premier League football since winning the Championship Golden Boot. With the exception of Vydra, they have all had some success as Fantasy assets in short spells, but it is worth pointing out that Pukki compares exceptionally well against their best second-tier seasons.
| | | | | | |
| --- | --- | --- | --- | --- | --- |
| | Minutes | Mins per goal ⬇ | Mins per chance | Mins per shot in the box | Mins per shot on target |
| Teemu Pukki | 3820 | 131.7 | 26.5 | 35.4 | 67 |
| Callum Wilson | 2534 | 181 | 39 | 40.9 | 87.4 |
| Glenn Murray | 2512 | 193.2 | 46.5 | 49.3 | 119.6 |
| Ashley Barnes | 2386 | 198.8 | 36.7 | 44.2 | 79.5 |
| Salomón Rondón | 2608 | 237.1 | 29.3 | 38.4 | 96.6 |
| Raúl Jiménez | 3122 | 240.2 | 28.1 | 35.5 | 94.6 |
| Josh King | 2970 | 247.5 | 41.3 | 49.5 | 129.1 |
| Troy Deeney | 2547 | 283 | 39.8 | 53.1 | 84.9 |
| Aleksandar Mitrovic | 3281 | 298.3 | 25 | 34.2 | 69.8 |
He also matches up well when looked at in the same study as some Fantasy players from the 2018/19 campaign. We chose a selection of strikers priced initially under £7.0m this season, as we believe Pukki will be marked up at somewhere between £5.5m and £6.5m next year.
We obviously have to temper the conclusions here as the Norwich man has been facing easier opposition but, as you can see, Aleksandar Mitrovic was the only option with better minutes per chance. The Fulham forward was the only one to have better minutes per shot in the box too, while Pukki bettered all these options for minutes per shot on target and was streaks ahead for minutes per goal. Furthermore, he even boasted better minutes per big chance than Mitrovic, Murray, Josh King and Raúl Jiménez.
If you watched footage of just Pukki's goals this season, it would be easy to think he was nothing more than a poacher, gobbling up the scraps and finishing off Norwich's attacks. However, the fact that he also provided nine assists on the way to winning the Golden Boot indicates that there is certainly more to his game.
Birmingham's Che Adams and Maupay were the only two Championship forwards to create more chances than Pukki this year while Lukas Jutkiewicz was the only second-tier striker to record more assists.
The combination of Pukki's comparisons with former Golden Boot winners, current budget Fantasy options and his assist potential certainly indicate that he could offer some serious appeal in FPL. We may have to wait and see how quickly he is able to settle into the top-flight but it would not be surprising if he hit the ground running.
Emi Buendía
Starts: 35 | Substitute appearances: 3 | Goals: 8 | Assists: 12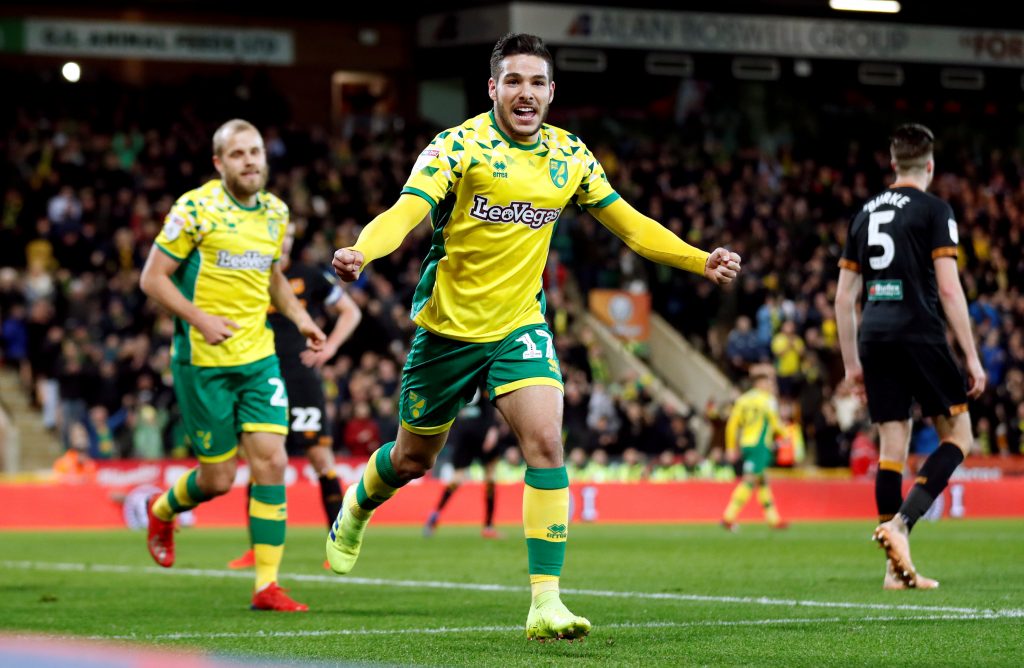 Scoring eight goals and assisting another 12, Emi Buendía has already become the most well-known midfield option for Norwich as they come up into the Premier League. The Argentinian, stationed on the right of the attacking midfield trio, has proved to be a revelation this season and has the potential to offer multiple avenues for points-scoring in the top-flight.
No Norwich player created more than his 91 chances in 2018/19, a total that was the third-best in the whole of the Championship. Only Sheffield United's Oliver Norwood (97) and Pablo Hernández (122) fashioned more opportunities for their team-mates.
Buendía's role in set-pieces has been a big part of that. The 22-year-old has taken more corners than any of his team-mates this season and was second only to Mario Vrancic for direct free-kicks.
The 22-year-old could also become a friend of the Bonus Points System (BPS) next year, given some of his other underlying data. No Norwich player won more tackles than him in 2018/19, his total of 64 proving 22 more than second-placed Max Aarons. Furthermore, Buendía was in the top five for recoveries (232).
The only thing worth tracking over the summer, for those intrigued by this midfielder, is the transfer interest in the player. His exceptional performances this year have attracted plenty of attention from bigger clubs and there will no doubt be rumours about his future. However, the Argentinian has, at least for now, nailed his colours to the mast, with his current contract running to 2022.
"I have a contract and it will be a dream to play in the Premier League. For my taste, it is the best league in the world, the most competitive. And it will be a pleasure to do it in Norwich, for the affection the people give us. It is a humble club, very familiar, people are super close and they helped me from the beginning. Our leaders do not want what happened to Fulham, who were promoted and spent £100m and went down. Norwich has already said that it will not spend £100m in the market. They are not going to do anything crazy with money." – Emi Buendía
Marco Stiepermann
Starts: 39 | Substitute appearances: 4 | Goals: 9 | Assists: 6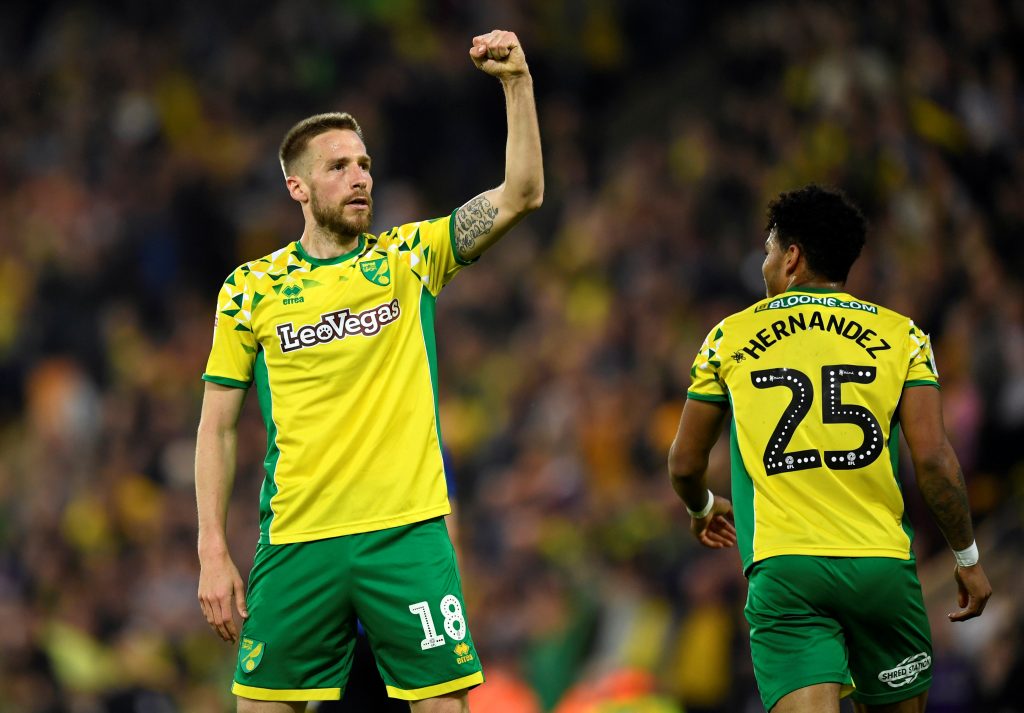 Operating as the number 10 in Farke's 4-2-3-1 system, Marco Stiepermann arguably has greater Fantasy potential than the more celebrated Buendía. The German has been described by the local press as the chief support for Pukki this season and one of the key reasons why the Finnish international did so well.
Stiepermann has proved very capable of involving himself in both goals and assists in 2018/19 with some impressive underlying statistics. Only Onel Hernández and Pukki managed more shots in the box than him this year. Also, while Buendía created more chances than Stiepermann, the German fashioned more big chances than his colleague.
Given how good his data was this season, especially in comparison to Buendía, Stiepermann was perhaps unfortunate not to involve himself in more than 15 goals. But given the quality of his performances, it does look as if he can give the Argentinian a run for his money in FPL 2019/20.
"I came here and said I was born to score goals! I know some fans were joking about it but I think I've proved some people what I'm able to do. I think I scored my last two or three goals outside the 18-yard box, I think I have a strong power shot." – Marco Stiepermann
Onel Hernández
Starts: 34 | Substitute appearances: 6 | Goals: 8 | Assists: 9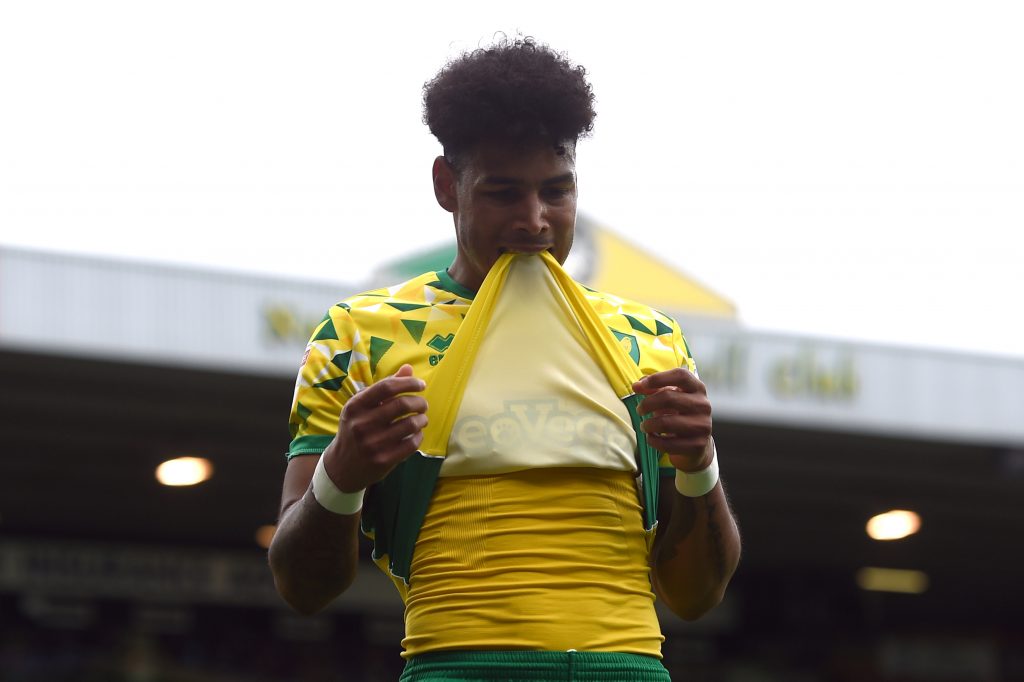 Left-winger Onel Hernández is another Norwich midfielder with the potential both for goals and assists in the Premier League. Only Pukki and Buendía were involved in more goals than the Cuban this season, as he scored eight times and set up his team-mates on nine occasions.
His goal threat is clear, considering that Pukki was the only Canary to register more shots or more efforts in the box in 2018/19. Meanwhile, the Finnish international and Jordan Rhodes were the only two ahead of Hernández for big chances.
While the left-winger has done well in the title-winning season, he has come under some criticism for a lack of composure along the way. Hernández has been guilty of missing some of his big chances, and considering Norwich will definitely create fewer in the top flight, his wastefulness might prove an issue.
Mario Vrancic
Starts: 14 | Substitute appearances: 22 | Goals: 10 | Assists: 7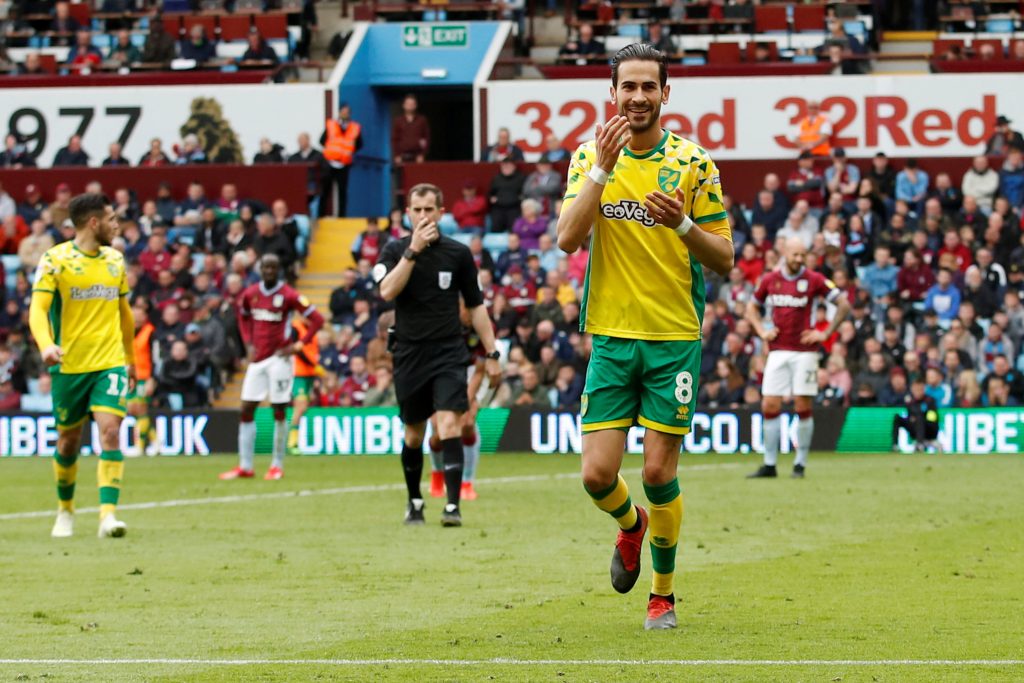 Despite operating in a deeper midfield role in the 4-2-3-1 system, there is every chance that Mario Vrancic could also put himself in the Fantasy thinking in 2019/20.
The Bosnian international spent most of the 2018/19 out of the side, so has the potential to have slipped under the radar ahead of the new campaign.
In the end, Vrancic made just 14 starts after a string of substitute appearances but was crucial in the business end of the campaign.
In fact, only Pukki scored more Championship goals than the Bosnian among Norwich players in 2018/19.
From his limited minutes, that meant that Vrancic averaged a goal every 147.8 minutes, again Pukki the only Canary to better it this season.
As the only Norwich player to have scored a penalty in 2018/19, he also stands a chance of being the designated spot-kick taker when he makes his FPL debut.
Other options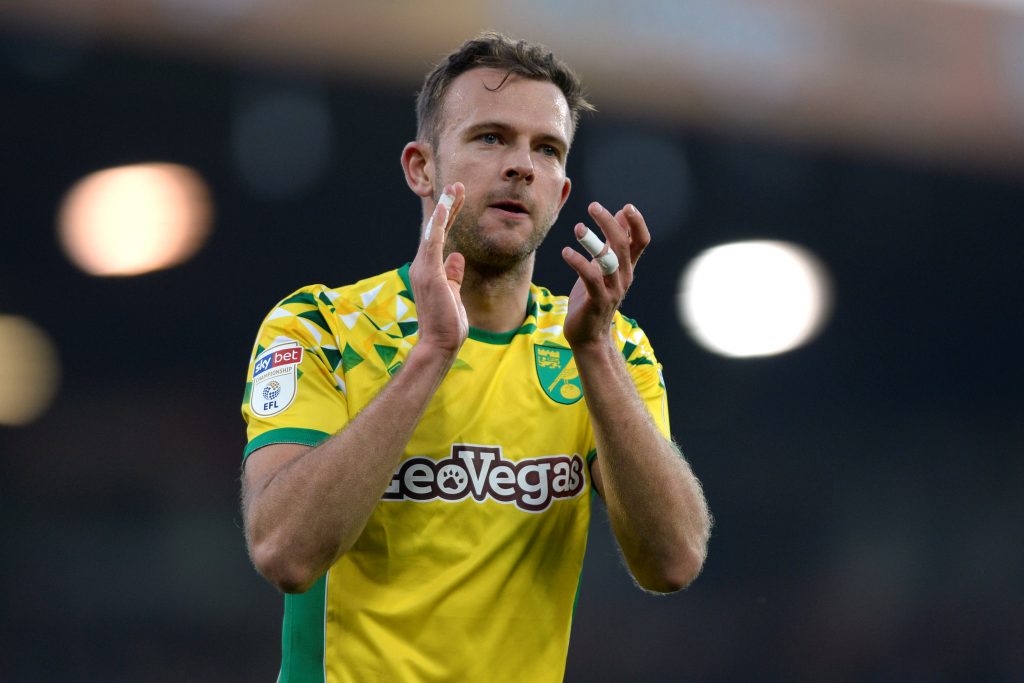 There are one or two other options that require some attention, but not on the same scale as the key players we have listed here.
Jordan Rhodes has spent most of the season in Pukki's shadow, but his appearances at the start of the campaign showed he certainly had something about him.
At that time, Rhodes was leading the attack as the lone forward with Pukki behind him in the number 10 role and he scored in two of the first three games of the campaign. In fact, despite limited game-time, Rhodes still finished the season with the second-highest number of big chances.
However, he was at Norwich on loan from Sheffield Wednesday and his future currently hangs in the balance. There are suggestions that the Canaries may fork out to make his move permanent but he would likely only act as back-up to Pukki in the Premier League.
Todd Cantwell and Moritz Leitner represent the alternative options in attacking midfield, but they combined for just three goals and three assists in 2018/19.
Kenny McLean, Alex Tetty and Tom Trybull all had some success operating in holding midfield this season, but at this stage, it's a little unclear which of them is the favourite to start there in the Premier League.
Trybull and Tetty both had just one league attacking return each in 2018/19 while McLean scored three goals and provided six assists in 15 starts.