"At my signal, unleash hell!"
Top Marx and the Hall of Fame have entered the building and in a bold attempt to rally The Great and The Good from their end of season celebrations I have taken to quoting Gladiator.
To remind those who have not been following along myself and Top Marx have collaborated on a series of article comparing the fortunes of The Great and The Good Jay Egersdorff, Ville Ronka, The Scout-casters (Joe, Andy, Az, David, Granville and Mark), Eliteserien's expert Niemi and the last man standing Torres Magic and best of The Hall of Fame. This is the final showdown and determine who will take bragging rights over the summer.
OVERALL PERFORMANCE
To compare the two groups, I have taken the best Career Hall of Fame managers not signed up by The Great and The Good. Therefore, The Hall of Fame line up is as follows: Grant Barclay, Matthew Jones, Marlen Rattiner, Owen Walker, Richard Clarke, Paul Gee, Lester Cheng, Kenneth Tang, Rick Beamish, and Bruce Savage. The table below shows the total points and position for each group of managers.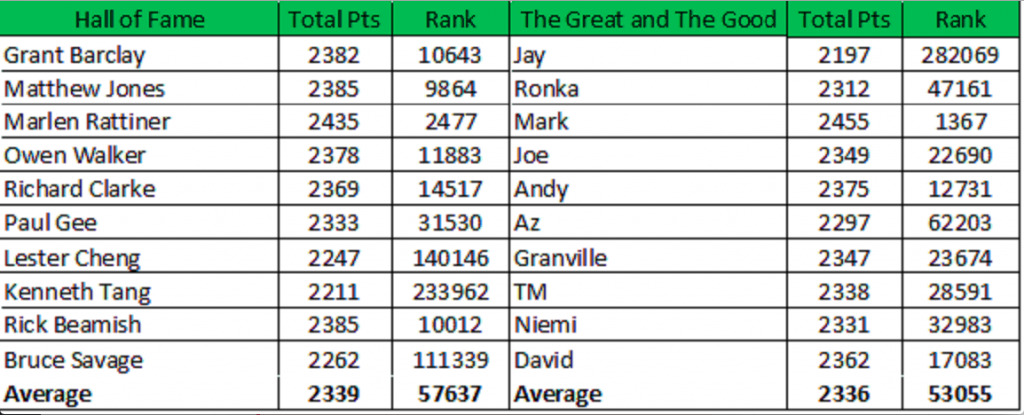 The result will need to be taken to VAR and we all know how much Top Marx likes that as it ends in a split decision with the Hall of Fame ending on a higher average point total but The Great and The Good with a better average points total. Mark was the top overall manager from the two supergroups narrowly beating Marlen Rattiner back into second place with Jay at the other end of the spectrum. For me that means a clear victory for all that is Great and Good but Top Marx appears to have other ideas….
TOP MARX CLOSING COMMENTS
There's no need to resort to the VAR, our victory is clear: a higher points total and six managers inside the top 15,000 compared to only two for The Great and The Good. Yes, our overall rank total may well be higher but that's easy to explain with three managers outside the top 100k. Who wants to be average? It's all or nothing for the winners.
Congratulations to Marlen Rattiner who achieved a remarkable seventh finish inside the top 3,000 overall. Satisfyingly for him, he achieved his highest rank of the season on the final day.
Matthew Jones (aka Numb) crept into the top 10,000 for his eighth end of season rank inside this elite benchmark. He's only twice in ten seasons finished outside the top 10,000 – once was his first season and the second was last year when he came 11,009.
Gaining the same number of points (2,385) as Matthew but missing out on the top 10,000 due to the FPL equivalent of the "away goals rule" is Rick Beamish. Rick made 47 transfers compared to Matthew's conservative 36. If Rick had made one less transfer or gained one more point, he would have achieved a ninth top 10,000 finish in his career. This is only the third time he misses out on that outstanding benchmark.
One aspect of the game where The Great and The Good performed better than the Hall of Fame was captain picks. On average per manager The Great and The Good gained 15 points more than the Hall of Fame over the season – 566 points to 551. Particularly impressive were Mark and David who managed 665pts and 641pts respectively. Owen Walker (aka Zan Keroski) was the only Hall of Fame manager to get over 600pts with 615pts.
It's remarkable that Marlen, the highest-ranked manager in the Hall of Fame team, managed a mere 495 captain points. Out of both groups only Lester (491pts) and Jay (489pts) fared worse. Had Marlen matched the Hall of Fame average captain points, he would have been inside the top 500 overall. Had Marlen equalled Mark's captain points he would have been second overall!
ANALYSING ADAM LEVY
It's become something of a truism to say that to win FPL you need to nail the captaincy. This partly stems from the 2016/17 season when FPL winner Ben Crabtree amassed an astonishing 755 captain points. Over 29% of his total score. In the same year, the best performing Top Five Hall of Fame manager was Peter Kouwenberg with 657pts – nearly 27% of his total score. Peter finished 138th.
In spite of a 57-point winning margin, this year's winner, Adam Levy, gained less captain points than both Mark and David. His total of 639 is undeniably impressive but it alone does not explain his victory – it makes up only 24% of his total score compared to 27% for both Mark and David.
Interestingly last year's winner Yusuf Sheikh, managed only 601 captain points. Also 24% of his total score. Perhaps Ben's incredible total from 2016/17 is something of an outlier?
Where Adam has done incredibly well is base points, which exclude captain doubling/trebling. He managed only 32 less base points than David did total points. Given that they gained almost exactly the same number of captain points, that's hugely impressive.
I included Hall of Fame team member Bruce Savage because of his success in the transfer market. Out of the two groups – The Great and The Good and the Hall of Fame – he gained the most Immediate Transfer Points After Hits – 176 points. 19 points less than Adam's total of 195 points. Yet Bruce finished the season ranked 111,339 overall.
Does this show that Immediate Transfer Points aren't a great measure of success?
Even if we boost Bruce's captain points to match Adam's, he would still only make the top 50k. As I discussed in an article last August – "Will The New Season Be Successful?" rather than as a measure of success, Immediate Transfer Points can serve as indicator of how fun a season has been. I'll explore this idea more in an article later this summer.
Clearly Adam has done extremely well with both captain and immediate transfer points but, for the manager with the biggest margin of victory ever, it would appear his true success lies elsewhere.
Using Fusen's Ownership Table tool makes it easier to see how well FPL managers timed their transfers (be sure to add your FPL ID to the URL).
However, looking at Adam's team it once again appears very good but by no means perfect. For instance he bought Doherty relatively late, not until Gameweek 16, missing his early season double-digit hauls of 12, 12, and 15. Pogba arrived in Gameweek 21 just after he'd returned 13, 15, 18 in the preceding three Gameweeks.
He missed five double-digit returns from Salah in the seven matches between Gameweeks 16 and 22. A total of 72 points.
Son as well: Adam bought him just after his run of 57 points in six Gameweeks, and then sold him just before a return of 13 points in Gameweek 21. He missed all of Rashford's double-digit hauls. Aubameyang and Lacazette managed five double-digit hauls between them in the early part of the season, he missed all of those too.
However, Aubameyang did come into his team at the start of Arsenal's nice fixture run in Gameweek 16 and Adam managed to catch his three double-digit returns over the next nine Gameweeks.
He sometimes made logical moves that had unexpected outcomes: he sold Agüero ahead of City's encounter with Chelsea, I don't think anyone predicted a 6-0 scoreline with Agüero bagging a hat-trick. Owning an Arsenal player seemed a much more sensible move that week as they faced Huddersfield.
He owned Deeney once all season: for his red card against Arsenal in Gameweek 34. And he owned Higuaín for five Gameweeks. Need I say more?
So, what did he do right?
He did well with his mid-priced and premium defenders: Alexander-Arnold was in his team for the vast majority of the season; Robertson arrived in Gameweek 10 and remained for the rest of the season (barring the Free Hit chip); Laporte was owned for all four of his double-digit hauls.
Using Fusen's FPL Statistico to look in more detail at Adam's squad, the two most frequently used players are the two Liverpool defenders. This continues a trend we saw last year in Yusuf Sheikh's winning team where premium defenders played such an important role. A trend which was predicted two years ago by Make Arrows Green Again (formerly RedArrows).
What Adam seems to have done very well is find good value players and stick with them. In addition to Alexander-Arnold and Robertson, Fabianski and Jiménez are also among his five most frequently used players.
Callum Wilson, who began the season priced £6.0m, started 15 times for Adam and averaged an impressive 6.3 points per appearance. He's the eighth most frequently used player in Adam's team.
Kenneth Tang, when explaining his "Value for Money" approach, noted that:
Undervalued players are most essential in this game.
Jiménez, Wilson, Alexander-Arnold and Robertson are perfect examples of undervalued players this season.
Moving away from FPL for a moment, I'm pleased to report that Kenneth, who was diagnosed with cancer in autumn last year, is recovering well and seems in good spirits. Although he says he could rest more. Liverpool's good form could have something to do with both the good spirits and the lack of rest!
Back to Adam's season, the only premium player to make his top five most frequently used is Sterling, who arrived in Gameweek 7 and became a near ever-present member of his side.
One of Jay's golden rules is:
Focus on your most expensive players and make your budget work for you
Adam has been able to focus on changing his expensive players because he got the foundations of his team right.
Apart from Sterling – Agüero and Salah were the only premium players to make Adam's most frequently used top ten. Both players featured 16 times for Adam. Thankfully Adam did not fall for Jamie Jackson's misleading report that Agüero might be dropped in Gameweek 2. Instead Adam gave the Argentine the armband.
Despite missing a few hauls as I mentioned earlier, Adam did very well focusing on his expensive players and making his budget work for him. He owned Hazard for the start of his good run in Gameweek 4: 58 points in 5 matches. In comparison, Bruce Savage only owned Hazard for the last fixture in that sequence.
Adam had Mané for the first five Gameweeks when the Senegalese returned 44 points. Vardy came into his team in Gameweek 27, which was in fact Puel's last match in charge: a 4-1 home defeat to Crystal Palace. Vardy then remained in place for Leicester's improved performances under Rodgers.
At times Adam showed Villa Rönkä-esque patience. Deulofeu was signed in Gameweek 19 after 21 points in his previous two Gameweeks, he then proceeded to do next to nothing until he managed a 23-point haul in Gameweek 27. Many other managers would have not have waited so long.
To conclude Adam seems to be an extremely good all-rounder, doing well in a number of areas without being truly exceptional as, for instance, Ben Crabtree was with his captain picks in 2016/17.
Four outfield players who started the season in the £5.0m to £6.0m range – namely Alexander-Arnold, Robertson, Jiménez, and Wilson – underpinned his side and allowed him to focus on bringing in more expensive players at generally the right times, even if he did miss a few double-digit hauls along the way.
Before I hand back to Grey Head, I would like to congratulate him on a truly outstanding season – he finished 85th in the world. Higher than any member of The Great and The Good or Hall of Fame teams. Maybe next season he will become a player/manager for The Great and The Good?
CONCLUSION
With the argument still going on we shall leave it there, but you never know the battle may resume next season. Much to ponder over the summer and the performance of some of The Hall of Fame may earn them a telephone call from The Great and The Good's scouting network, could even Adam Levy be the big money signing?
Anyway, for one last time this season that's all from Top Marx and from me and remember don't have nightmares.