Introduction
Playing FPL is simple – you just need to spend your budget wisely. However, in order to do that you need to compare the value offered by different players, which is not so straightforward an exercise. Traditional method of dividing player's points by his price does not help much, as you will always find that cheap players offer greater value than expensive ones. Therefore, in order to circumvent this bias you need to find a systematic approach to compare players in different price brackets.
Methodology
This analysis tries to find overpriced/underpriced players based on their last season's performances and this year's prices. I consider average point per match (PPM) rather than total points over the season to be a more valuable metric. Fantasy managers are usually able to transfer out injured or otherwise unavailable players, so a player should not penalised for him being temporary unavailable (however, you should avoid injury prone players as transfers are limited).
I utilized regression analysis of 2018/2019 average points per match and 2019/2020 prices. I excluded players who played less than 1000 min. (for data reliability) and are currently owned by less than 4% (I consider these players not to be "fantasy material"). For players that were reclassified from one position to another, I used their recalculated PPM based on this excellent analysis by Ludo.
Results
I came up with the regression of PPM=1.08+0.46*Price. To put it in simple language, while buying a player you get 1.08 PPM free of charge and 0.46 PPM for every million spent. Therefore, I derived the player value as Value=(PPM-1.08)/Price. Traditional value metric would use a basic formula of Value=PPM/Price, which is biased towards cheaper players (it does not account for a "free" 1.08 PPM).
Based on my methodology the most valuable players in each position would be as follows: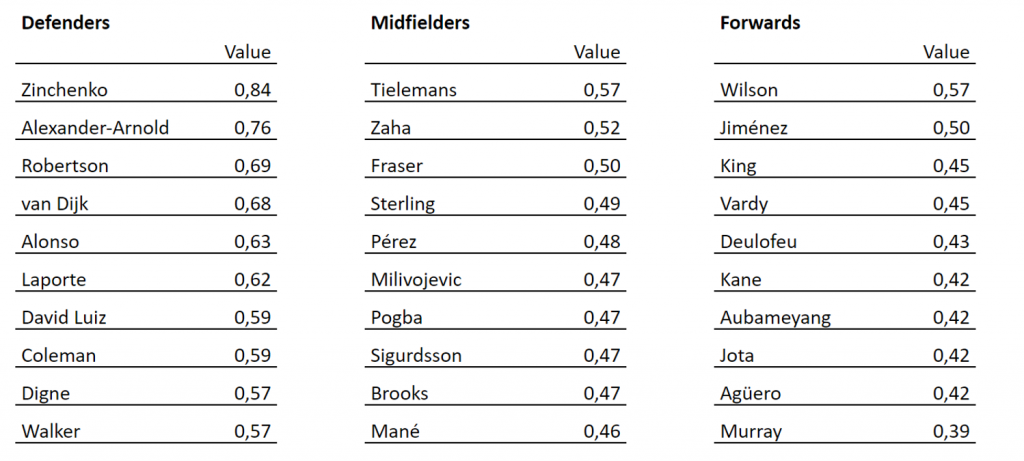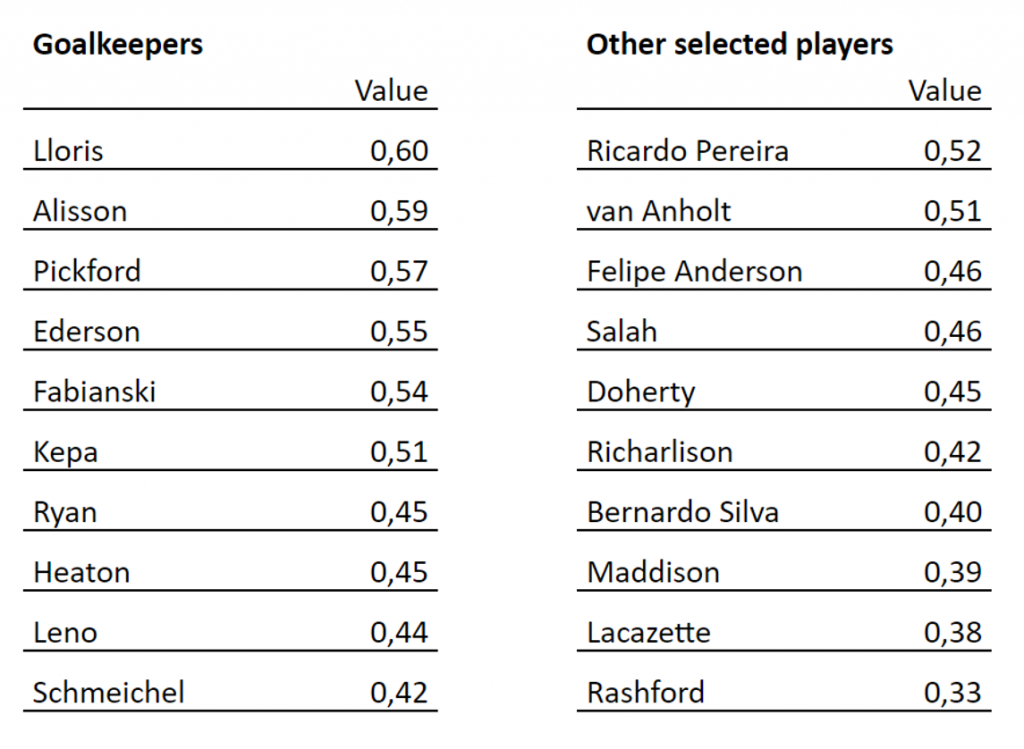 The way to interpret the results is simple – the higher the value score, the more underpriced the player is. The hurdle rate to decide if the player is underpriced/overpriced is 0.46. If the value is higher than 0.46, the player is underpriced and vice versa.
We can see from the results that the hype about defenders are justified by my analysis. Despite the increase in their prices Liverpool defenders still offer exceptional value, while only two forwards are underpriced (value score above 0.46).
How to use my approach making daily decisions
The tables above indicate the underpriced/overpriced players based on solely their historic PPM. However, if you believe that a certain player may underperform/overperform his historic PPM, you may recalculate his value.
For example, if you believe that Andrew Robertson this season will average 5 PPM (rather than 5.9 last year), you can recalculate his value using the same formula Value=(PPM-1.06)/Price resulting to value of 0.56 (which is still impressive).
I have also built the inferred average PPM for each price point. If you believe that a certain player can overachieve the PPM for his price bracket – go for it!

There is no need to memorise this table as you can do mental calculations for any price point by yourself. You can use simplified formula of Price/2+1 (the table uses formula Price x 0.46 + 1.06) to arrive at required PPM to make the transfer.
Let's take Robertson again as an example. Using simplified formula you will arrive at 7/2+1=4.5 PPM to justify the transfer. It is 0.2 more than in the table above, which is not a problem as you want to transfer in players who offer above average value.
Other implications – cost of making transfers late
Another widely discussed topic is should we make transfers early or incur price increase/decrease and wait as close to deadline as possible. My regression can calculate the cost of waiting. The value of any additional 0.1 in team value diminishes from 1.7 points at the start of the season to 0 points at the end.
As an example, if there are 37 Gameweeks left, the cost of 0.1 increase in price can be calculated as 0.1 multiplied by incremental return of 1m (0.46) and multiplied by remaining Gameweeks (37). That would give us 0.1 x 0.46 x 37 = 1.7 points for every 0.1 increase in price. The cost of missing 0.2 price increase (3.4 points) is just below the cost of a hit (4 points).
Conclusions
The main takeaways:
1. Use the formula Price/2+1 to arrive at required PPM for any player that you want to transfer in. If you believe he can overachieve it, transfer him in!
2. Use formula Value=(PPM-1.06)/Price to compare the value offered by any two players. If the result is above 0.46, he offers above market average value.
3. The value of any additional 0.1 in team value diminishes from 1.7 points at the start of the season to 0 points at the end.
Fantasy football is not only about data, there are certainly more factors that fantasy managers need to navigate, i.e. changes in forms of teams/players, injuries, captaincy, rotation risk and many more. However, I believe that my approach could help the managers to make better informed decisions and find undervalued/overvalued players.