The 2023/24 UEFA Champions League (UCL) begins next Tuesday – and so does the competition's official Fantasy game.
We'll have plenty of coverage on UCL Fantasy over the next week in preparation for the big kick-off, as well as articles throughout the season.
If you're new to the game or just need a reminder of the rules, check out our 'how to play' guide below.
Our series of preview articles continues by looking at the best UCL Fantasy goalkeepers on offer.
With a squad of 15 players and substitutions possible between the evenings of a Matchday, having a playing goalkeeper from each half of the group draw is a great way to maximise points. This way, you know that there'll be an option on both days.
It should be said that many defenders offer more routes to points thanks to potential attacking returns and recovery points. It's for this reason that many UCL Fantasy managers stick to a combined price of €8.5m-€10m for their two goalkeepers.
With that caveat ringing in your ears, here's a guide to who's who.
GROUPS E-H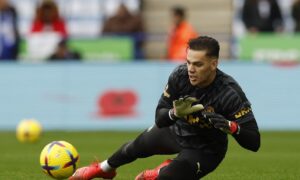 Ederson (€6m) – Manchester City
Manchester City's fixture against Crvena Zvezda is one of the most appealing of Matchday 1 and many UCL Fantasy managers will be wanting to triple up on the reigning champions. With "Pep Roulette" always a risk, Ederson is probably the safest bet to start the season with as he comes with less risk of being rotated. He's a six-pointer just waiting to happen.
Marc-André ter Stegen (€6m) – Barcelona
The La Liga champions have a very easy group from a defensive point of view. That, and the fact they were by far the team with the fewest goals conceded in the top five leagues last season, make the German international a solid premium option for the entire group stage phase.
Diogo Costa (€5.5m) – Porto
All the UCL Fantasy managers who owned Diogo Costa last season are probably considering him for this campaign, too. Despite Porto being knocked out during the round of 16, he ended up finishing as the second-highest-scoring goalkeeper only behind finalist Andre Onana. Porto are a competent defensive side as it is but the Portuguese can add to his points tally with an occasional penalty save or even an assist. The fixture against Barcelona in Matchday 2 can also be avoided with the very common strategy of an early Limitless chip.
Janis Blaswich (€4.5m) – RB Lepizig
The best budget option from this side of the draw. Leipzig are not known for their defensive proficiency but Young Boys and Crvena Zvezda are easy enough fixtures, and the clash against Manchester City (it's best not to remember what happened last season against the Citizens…) falls in Matchday 2 – which again furthers the case for a Limitless chip in that round.
Ivan Provedel (€5.0m) – Lazio
Group E is an interesting one, for sure, and the match-ups between Lazio, Atletico Madrid and Feyenoord could go either way. With Jan Oblak (€6.0m) arguably outclassed by ter Stegen and Ederson as a premium option, Lazio's shot-stopper gets the nod here. Provedel kept the most clean sheets in Serie A last season and scooped the division's "best goalkeeper" award at the end of the campaign.
GROUPS A-D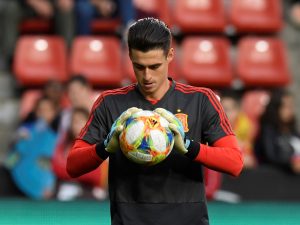 Kepa Arrizabalaga (€5.0m) – Real Madrid
Kepa was supposed to compete with Robert Sanchez at Chelsea when he was priced at only €5.0m in UCL Fantasy but an unlucky injury to Thibaut Courtois has landed him a move to the Spanish capital. Real's backline is not as strong with the Belgian and Eder Militao both injured, but it's extremely rare to have such a nailed cheap option from a team expected to go all the way into the final stages of the competition.
Yann Sommer (€4.5m) – Inter
Another player who was criminally underpriced because he was expected to be a backup option before moving to another team. Sommer has started his Inter career very well, and he's yet to concede a single goal in Serie A this season. Inter also proved to be an extremely solid side in 2022/23, going all the way to the final while registering the most clean sheets in the tournament.
Samuel Soares (€4.0m) – Benfica
Odysseas Vlachodimos moved from Benfica to Nottingham Forest on transfer deadline day, leaving the Portuguese giants with Soares as their main goalkeeper. Benfica share their group with Inter, RB Salzburg and Real Sociedad. With Soares being so cheap, he's a viable option as an enabler to facilitate a move for the premium UCL Fantasy forwards. He's also capable of scoring six points in at least a couple of games.
Marko Dmitrovic (€4.5m) – Sevilla
Dmitrovic is another option who could rival Sommer and Soares as the go-to budget goalkeeper from this side of the draw. Sevilla are always a very decent team in UEFA competitions, and although their defence doesn't look as strong as Inter's or Benfica's, the Serbian goalie is a viable option for those Fantasy managers not playing a Limitless in Matchday 2 – as his tough match-ups occur in Matchdays 3-4.
---