With the campaign drawing to a close, members of the Fantasy Football Scout community were preparing to roll out the red carpet and dish out end-of-season awards. We revisit the week's discussions to call in on the names earning the plaudits, whilst also harking back to topics which assessed the merits of daring to be different and next season's potential backline bargains. Elsewhere, we warm up for the World Cup by recalling a discussion that focused on a rather unique international clash. Finally, in our regular summary of the community competitions, we drop in on a new tournament that's been testing our crystal ball gazing skills to their limit.
The Hottest Topics
Last weekend's announcement of the PFA's team of the year proved the catalyst for a glut of posts to honour your top players from the season. Our hot topic proved one of the most popular this week and, while your own selection shared several similarities with the PFA's choice, some also reserved accolades for unsung heroes who had helped shape their Fantasy season. Granville was quick to point out the value provided by Emmanuel Adebayor during his purple patch, while Sunderland's Vito Mannone was the undisputed keeper of choice, with the likes of Moin and Walrus Eggs among those dishing out the praise.
Robareid was also inspired to quiz the community for end of season favourites, this time focusing on most enjoyable players to own. Christian Eriksen was his choice, with the likes of Yaya Toure, Seamus Coleman and even Bryan Oviedo earning a mention amongst the discussion that ensued. It was a topic that was revisited only this weekend, with Kingston's request for a roll call on the season's FPL Heroes and Villains.
It wasn't just players earning recognition in this week. Accounting on Chris decided to turn the subject of awards back onto the community itself, asking you for nominations for your favourite posters from the season, providing another of the week's most popular threads.
Giggs Boson earned a mention in that particular topic and he was duly on hand to continue the retrospective theme, as he cast an eye back over the top Gameweek FPL point scorers. His post certainly highlighted the value in searching out differentials, as the discussion recalled the impact of André Schürrle's Gameweek 28 tally and Gameweek 34's surprise success story that was Jason Puncheon.
Looking forward, Andy1's recent hot topic immediately assessed the assets on offer from relegated Fulham and Cardiff to ask which of their squad are likely to remain on our player list next season. Earlier in the week, we also prompted you to kick-off your plans by requesting your tips on the potential value defenders and goalkeepers on offer in the 2014/15 campaign. With the Everton, Crystal Palace and Chelsea rearguard all set for a hike in price, JimLad reckons that Newcastle could become a great alternative source of cheap defensive points. Meanwhile, Dufflinks had other ideas, pointing out that, without Europa League distractions, Swansea defenders are likely to perform better next season and could prove attractive investments.
Finally, The Sarjeant helped to ease us into World Cup mode by recalling one of the strangest international matches that has ever taken place, where Barbados and Grenada in 1994 took own goals to a new level of ridiculousness. Be sure to check out the chatter and the footage in his thread.
The Community Tournaments
The Sarjeant makes another appearance in this week's round-up, this time as creator and host of the Punters Predictions competition for a contest that challenges entrants from the community to accumulate points for correct score and result predictions. Skogen89 led the way this week, with Ryan Giggs One More Year running in second.
Meanwhile, over in the Puffinboy Memorial Cup, a tournament dedicated to one of Fantasy Football Scout's very first posters, DonTheSpecialOne looks to have secured glory: he goes into Gameweek 38 with an impressive 37 point lead.
as long as Rooney doesn't play

He can have the Flangan goal

I'll take the Aguero hatty

sorted

Flanagoal would be GLORIUS.

if both Rooney & Aguero are out for the final GW, would you rather have Dzeko or RVP ?

ok, it seems obvious then that Dzeko is a favourite here. Can't blame it tbh.

Then I may end up this season with 7.3 M in the bank 😯

yeah. My ML rival has just taken a lead from me by captaining Dzeko, while I am on Kun(c)

Hope Liverpool can beat Palace 5/6-0 to give them some chance of winning the league on the final day.

So Rooney probably out tomorrow. Feck!

Welcome to my team......Fabio

How about welcome to my team Chester. No doubt there will be other sufferers.

I haven't got Rooney but Ramsey and Azpi, Chester and Dann auto subs here

Cheers for the mention Jonty! I see you're no. 2, it's not over yet.

Many sold Suarez this week.. I certainly didn't, and look forward to his goals tonight 😎
Also just saw Beric (c) him.

Anyone on here watch The Inbetweeners?

I got bored last night and made a little song, and used loads of funny things Jay says as samples. I know the songs awful, but I find it funny lol!

You can listen to it here if you want haha! http://m.soundcloud.com/johnnyjj-1/johnny

Just noticed the bit about Swansea

Hoping Vorm drops to 5.0

Just a discussion about whether, without Europa, Swansea defence might be worthy of investment again

Vorms had lots of injuries this season, i dont trust him, Ben Davies might be worth a look.

Mannone
Chelsea - Arsenal - Palace - cheapo - cheap

FTW! 😎

Pick a front 7 for the final GW, with no price or team constraints

Here's mine

Eriksen Yaya Sterling Snodgrass

Adebayor Suarez Sturridge

Nasri Yaya Sterling Gerrard
Suarez Sturridge Dzeko

"No price or team constrains"

It's not my team. Weren't we suppose to just pick the 7 we'd bet on?

Is it worthy to swap aguero to sturridge and captain him in FPL. Help pls...

Wait for news. We dont know if hes fit or not.

what is the goal difference difference between city and L'pool

if Kun out, both ideally. If just one - Sturridge IMO

If Manutd finishes 7th, they aren't playing in Europa next season. Right?

Suarez unwell in the warm up. Looks like the doctor has looked at him, Suarez was wretching.

Predictions for tonight's score? It wouldn't surprise me to see Palace as the party poopers.

It's great to see Neville and Carra on Sky together, two great servants for their respective clubs and "proper football men".

Just need Carra to find a new accent and stop talking twaddle

Seeing a lot of people moaning about key players out this gameweek but this game rewards those sensible enough to build solid squads that can be relied on. Thankfully I did my homework and so am in a great position to absorb these injuries.

Out for me this week are Ramsey, Azpi & Rooney but thankfully in come Eriksen(2), Chester(0) and Collins(0).

😀

What are the chances Liverpool win the title the season after Gerrard retires?
Scout Picks
2014/15 Team of the Season
Clyne

Ivanovic

Terry

Bertrand
Cresswell

Sigurdsson

Giroud
From the Community…
Comments
Hot Topics
Articles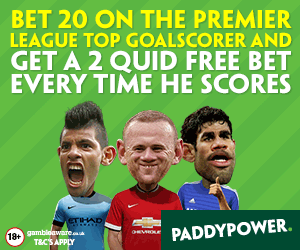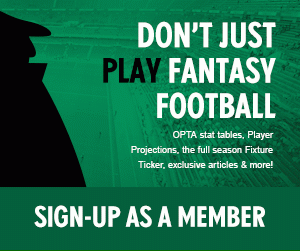 "All players will blank a few times during the season. When almost all do it in the same Gameweek, it is tough to take, but that's just the dark side of probability."

Abreu 42 Community regular