"We're leaving together, but still it's farewell. And maybe we'll come back. To earth, who can tell? I guess there is no one to blame. We're leaving ground (leaving ground). Will things ever be the same again? It's the final countdown. The final countdown"
The final countdown is upon with only more week to go before we all start to wonder what we are going to do with ourselves when the season comes to an end. Visit the garden Centre? Tarmac the driveway? Watch the Cricket World Cup? It could be a long summer…
However, we are not there yet, and these final moments of FPL action are critical times for those seeking mini league glory whilst others look to consolidate their overall rank and wonder what might have been.
So, who are The Great and The Good? They are Jay Egersdorff, Ville Ronka, The Scout-casters (Joe, Andy, Az, David, Granville and Mark), Eliteserien's expert Niemi and the last man standing Torres Magic.
OVERALL PERFORMANCE
Game week 37 proved to be challenging with seven of the ten managers getting red arrows. Torres Magic was the leading light this week with 54 after a hit with his bold move to bring in Hazard paying off plus the defensive double act of TAA and Doherty also providing double digit scores.
Mark also continues to climb with 53 and his 5th green arrow in a row thanks to Laporte, VVD and Doherty. This is his highest rank of the season and he is sprinting to the finish line; can he go even higher?

TRANSFERS AND HITS
This is a summary of the transfers for this week:
Andy – No transfer
Az – TAA, Shaw (Duffy, Vertonghen)
David – Shaw, Sterling, Hazard (Trippier, Salah, Eriksen)
Granville – No transfer
Jay – No transfer
Joe – Pogba, Wilson (Eriksen, Llorente)
Mark – Calvert-Lewin (Llorente)
Niemi – No transfer
Torres Magic – Shaw, Hazard, Long (Vertonghen, Eriksen, Gray)
Ville Ronka – TAA (Cathcart)
*transfers out are in brackets
David took the headlines this week for his audacious eight point hit to bring in Shaw, Sterling and Hazard but alas it was only the Chelsea man who was worth the gamble.
This was a surprising move based on the cautious approach he has taken this year with only five hits all season before this GW, only Ville Ronka has taken less.
On the topic of the self-discipline four of The Great and The Good decided to roll the transfer perhaps expecting final day fireworks.
Torres Magic was the other manager to take a hit, but his moves were more rewarding as he made a net eight-point gain. TAA was a popular target and he provided immediate returns for his new owners Az and Ville Ronka.
TEMPLATE
After those transfers the template now looks like this:
Ryan, Foster
Duffy, Doherty, Valery, Robertson, Alexander-Arnold
Son, Mane, Sterling, Jota, Deulofeu
Aguero, Jimenez, DCL/Vardy/Firmino
The template remains stable in this penultimate weekend with Eriksen moving out for Deulofeu being the main change of any note. Upfront, we saw a new contender in the battle for the third striker spot with Dominic Calvert-Lewin the surprise new contender.
CAPTAIN AND DIFFERENTIALS 
Two of the managers played the triple captain chip this week with Granville and Joe taking the lucky dip, sadly this did not pay off as they went for blanking City men Sterling and Aguero.
They were not alone in plumping for City assets as eight out of ten went that direction but plotting a different course David and Torres Magic picked their new signing Hazard. This proved a great move as the crown prince of assists netted another double-digit score, his 11th of the season.
TOP OF THE POPS
So, who have been the most popular players for The Great and The Good this year and does this tell us why some have succeeded whilst others have been more Huddersfield like in their FPL performance?
The table shows the top five players for each in terms of games played and highlights how popular the Liverpool pair of Salah and Robertson have been, yet remarkably the flying Scot has not been in Mark's team all season.
However, Mark's top three most played players Salah, Hazard and Sterling are the top three FPL scorers this season so perhaps a more telling sign of his success.
Elsewhere, Andy's love of Jimenez is obvious for all to see and he makes appearance in the top 10 of all the managers except for Jay and Az which perhaps indicates why they are at the wrong end of The Great and The Good table
Richarlison has been the most regular member of Torres Magic's squad which may explain his mid-season slump after Christmas, despite being number one in terms of appearances he was 29th in terms of average points per game played for this FPL legend.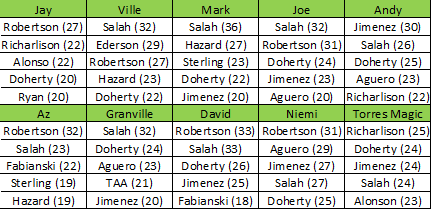 *Data courtesy of FPL Statisco
*Number GWs played in Brackets ​
WHAT HAVE I LEARNED?
The final few days of the season are upon us and so a time to reflect on what lessons we have learnt. It's been great fun, or should I say great and good fun following these managers and I believe they have all taught us different lessons during the season.
Firstly, the FPL enigma himself Ville Ronka with his legendary self-control teaches us the importance of planning and I have found myself looking at least six weeks ahead trying to emulate this legend of the game.
David's season shows us the importance of data, research and information as his best FPL performance has coincided with his move into the FFScout world. He had not been in the top 150,000 let alone the top 20,000 until this year.
Torres Magic has demonstrated the power of consistency and like Joe the advantage of making the smart, sensible moves rather than chasing the latest shiny toy – do any of us remember the Barkley bandwagon earlier on in the season?
Niemi and Andy have been chip champions for me with the Eliteserien's kingpin's choice of Aguero in GW25 a great pick and Andy's wildcard in GW5 transforming his season gaining him 390,000 places and meant he never left the top 100,000 for the rest of the season.
Jay has not had the best of seasons but reminds us all that luck is a major factor in FPL. We may have questioned his signings of Rico and Redmond yet was it more a case of bad timing as the Fulham keeper has scored 28 points in the last four game weeks since Jay sold him the same amount as he scored for the twelve when he owned him! Similarly, with Redmond, he bought him in GW22 and sold him GW24 just before he hit a double-digit score in GW25.
Granville's approach has always been different including captaining Alonso but despite this he still sits just outside the top 30,000 so shows you can play this game many ways.
As for Az well, it must be resilience is key, despite unrest at a poor season he has never thrown in the towel and now sits within the top 100,000, hopefully the final day will bring him a bit of magic his tenacity deserves.
Mark has obviously been the outstanding player and can lay claim to be the FPL GOAT but whilst many would say he has been aggressive in his approach for me it's been more a case of calculated aggression. He took most of his hits early in the season, seven in the first 12 GWs when he knew he had to make up ground and the gap to the top was smaller and then struck again with 5 more to cover the blanks and doubles in GW31 and GW35.
CONCLUSION 
We are at the end of another weird and wonderful season and with one week to go how will The Great and The Good respond to what is typically the most unpredictable of weekends.
Will they go safe and double down on City and Liverpool players or will they buy another lottery ticket in the form of Redmond, Perez, or even Pogba?!
Anyway, that's all from me for now and remember don't have nightmares.