Having finished sixth overall in the 2012/13 Fantasy Premier League (FPL) standings, our hopes were high for Theo Walcott's prospects at the beginning of last summer. The Arsenal winger produced 14 goals and 13 assists in just 24 starts and looked to have finally rid himself of the inconsistency that had blighted his previous campaigns:
The latter started the season slowly, with just two assists in his first three appearances before Arsene Wenger acquired Mesut Ozil from Real Madrid in a real statement of intent. The German's eye for a killer pass looked tailor-made for Walcott's runs in behind backline defences but, in their first appearance in the same XI, it was Aaron Ramsey who hogged the headlines, scoring twice in a 3-1 away win over Sunderland in Gameweek 4.
Walcott picked up a pelvic problem prior to the club's following game and whilst Ozil and Ramsey began to deliver the points, their team-mate spent the next couple of months on the injury list before being gradually introduced to the action via a handful of sub appearances. Climbing off the bench in four successive matches between Gameweek 12-15, Walcott still found time to tee up a pair of assists in just 63 minutes before he was finally handed a starting role against City in mid-December.
Wenger's side left the Etihad licking their wounds after a 6-3 mauling highlighted their defensive flaws, yet for Fantasy managers, the day was all about Walcott after he produced a 13-point haul, courtesy of two goals and a single bonus point. The next four league games harvested three goals, an assist and six bonus points as the wide man's bandwagon picked up in pace over the New Year before disaster struck. A knee injury in the FA Cup Third Round win over north London rivals Tottenham ruled Walcott out for the season and deprived us of his services just when he'd hit top form.
The Prospects
Those five appearances, which delivered three sets of double figures and helped Walcott average 6.9 points per start in 2013/14, underlines just why he was so sorely missed by Fantasy managers. Discussing his rehabilitation with the club's official matchday magazine late last month, the wideman revealed that he's somewhat hesitant to put an exact date on his potential comeback:
"I want to be back quickly, of course — but safely, too. I want to try and be back for the early part of next season. That is the goal, so there will be a lot of hard work throughout the summer and during the World Cup. It has nearly been four months now, and my recovery has been on track so far. At the moment I'm working on muscle strength and building muscle in my quad. I see the consultant soon, and hopefully he will give me the thumbs up to push on. I would love to be running in a few weeks."
Providing all's good and well, though, Walcott looks likely to be on course to return in time for the new campaign. Price-wise, he started last term at 9.5 in Fantasy Premier League (FPL) but there'd be no surprise if he even dropped to 9.0 due to the fact he managed a mere 860 minutes for the Gunners.
Elsewhere in the Arsenal midfield, Ramsey's excellent season will trigger a price hike across the Fantasy games but bearing in mind he missed over three months through injury, it remains to be seen whether the Welshman has done enough to be elevated into the premium bracket. Certainly, there seems no doubt that Yaya Toure, Steven Gerrard and Eden Hazard could all break the 10.0 barrier this time around after the trio all surpassed the 200-point mark in 2013/14.
Indeed, Ramsey's price may ultimately determine how some view Walcott. If the Welshman can stay under 9.0, he may well be the main Arsenal target for many Fantasy managers, potentially affording Walcott the role of differential amongst our midfield options. On the other hand, if Ramsey is shifted into the same category as Walcott, Mesut Ozil and Santi Cazorla, it'd be hard to overlook a fully-fit Theo, firing on all cylinders, as our Arsenal midfielder of choice once again.
Latest Community Article - Scouting Japan

Indeed, nice work Somalion. I submitted a piece in a similar vein on rivals South Korea.

nice. feel a bit sorry for young. there is a bum young, a suk young and a kook young

Indeed, nice work Somalion. I submitted a piece in a similar vein on rivals South Korea.

Didn't mean to repeat myself. Sorry about that.

Nice work. And nice side!

Guttman Curse

After the 1962 European Cup Final, Guttmann approached the Benfica board of directors and asked for a pay rise. However despite the success he had brought the club, he was turned down. On leaving Benfica, Guttman allegedly cursed the club, declaring "Not in a hundred years from now will Benfica ever be European champion".

1963 European Cup - Benfica 1 - 2 AC Milan
1965 European Cup - Benfica 0 - 1 Inter Milan
1968 European Cup - Benfica 1 - 4 Manchester United (AET)
1983 UEFA Cup - Benfica 1 - 2 Anderlecht (On aggregate)
1988 European Cup - Benfica 0 - 0 PSV Eindhoven (5-6 on pens)
1990 European Cup - Benfica 0 - 1 AC Milan
2013 Europa League - Benfica 1-2 Chelsea
2014 Europa League - Benfica 0-0 Sevilla (AET, 4-2 on pens)

Marin + Cash to Sevilla = Moreno to Chelsea

Left Back problem solved I think.

is Moreno a good buy?

Him and Vitolo looked terrific.

I really don't want to change the back 4 of the best defence in the league!

he is a great talent...however is he better than azpi? I don't think so...

Azpi is great at defending but poor at going forward in that position.. we need a attacking LB..

so azpi would be benched? one of the best defensive fullbacks out there...

The team I've bet on to win the World Cup.

Croatia provisional squad:

Goalkeepers: Stipe Pletikosa (Rostov), Danijel Subasic (Monaco), Oliver Zelenika (Dinamo Zagreb).

Defenders: Darijo Srna (Shakhtar Donetsk), Dejan Lovren (Southampton), Vedran Corluka (Lokomotiv Moscow), Gordon Schildenfeld (Panathinaikos), Danijel Pranjic (Panathinaikos), Ivan Strinic (Dnipro Dnipropetrovsk), Domagoj Vida (Dynamo Kiev), Sime Vrsaljko (Genoa), Igor Bubnjic (Udinese).

Midfielders: Luka Modric (Real Madrid), Ivan Rakitic (Sevilla), Niko Kranjcar (Queens Park Rangers), Ognjen Vukojevic (Dynamo Kiev), Ivan Perisic (Wolfsburg), Mateo Kovacic (Inter Milan), Milan Badelj (Hamburg), Ivo Ilicevic (Hamburg), Marcelo Brozovic (Dinamo Zagreb), Ivan Mocinic (Rijeka), Mario Pasalic (Hajduk Split), Sammir (Getafe).

Forwards: Mario Mandzukic (Bayern Munich), Ivica Olic (Wolfsburg), Eduardo (Shakhtar Donetsk), Nikica Jelavic (Hull City), Ante Rebic (Fiorentina), Duje Cop (Dinamo Zagreb).

there is a croatian called gordon? lol

He does rather stand out there 😆

Fun Fact: 19 year old midfielder Mario Pašalić will be a Chelsea player this summer.

They stand a chance to be the top European team and get to semis, though. But have to beat either Spain or Netherlands, and probably either Ivory Coast, Colombia or Uruguay on the way. At best luck, it's Italy or England that has somehow won their group and then beats Colombia/Ivory Coast on round of 16. That way Croatia would have two European teams in knockouts and would stand very good chances to get to semis.

They would have beat both Italy and Spain in EC, wasn't it for referee mistakes.

How will they lineup?

Pletikosa
Corluka Lovren Schildenfeld Srna
Kovacic Modric
Kranjcar Rakitic Perisic
Mandzukic

May have Modric's position wrong.

Do you think the Croatian Gordon will actually start?

Did he? Can't remember him, although I really liked that Croatia team and supported them in euros. moral winners imo. Should have won against both finalists, but referee murdered them.

...to be honest, I can't see anybody better there. Where's Simunic? Corluka may play CB with Lovren.

simunic has a 10 match ban lol

Oh, okay. Now that you say it, I remember it too.

Strinic usually starts as well. Or did.

Simunic is banned for Nazism or something.

My prediction is Olic and Pranjic play.

Pletikosa
Srna Lovren Corluka Pranjic
Rakitic Modric
Olic Kovacic Perisic
Mandzukic

Why can I not pick a World cup squad until 8th June?

Thoroughly ridiculous...

surely it will reduce the number of players who enter and they lose money on traffic for advertisements...madness

It was like that last time around too. Nothing new.

Is it likely LVG will be looking to bring few of his Dutch players to utd? Plenty of time together to sort informal deals. Already hearing strootman, any others likely?

Doubt it, only signed new contract and y would he leave bayern where he's gtd success, he's 30 now so sure he wouldn't want to waste a year at this stage with no champ league

Any half decent fantasy games for the WC with unique players (draft/auction style)?

And don't bother linking me to McDonald's game. I do have Google.

McDonalds game is the official one as you know, i dont know of any other decent ones sorry

Living up to your name? 😉

so in 50 hours and 13 minutes when the fa cup final begins to be televised what can i expect to see? arsenal win something for the first time in 9 years? and the fans of rival clubs finally silenced about the time in which arsenal havent won anything... or will hull win and the nightmare continue?

also will winning the fa cup give arsenal that "winning mentality" of which we apparently dont have?

expect Hull to do a Portsmouth..

haha 😉 its possible... but i would hope our defence can shut out sagbo and his merry men

Jelavic and Long cup-tied? good for you!

haha yep 😀 though even with them we should beat hull

easy-peasy game for you.. get ready for the silverware!

Arsenal have become the new city, when it all looks rosy we find a way to mess it up.. i hope this time they buck that trend... very excited and nervous for saturday though. cheers for your confidence 😀 hah

so freaking nervous...this game will have huge ramifications...a loss would be probably worse than a Birmingham, a win and things are looking up

ramsey will do a parlour

its ramseyyyyyyyyyyyyyyyyyyyyyyyyyyyyyyy!!!!!!!!

this is how i feel mate.... but then arsenal historically only come unstuck v teams starting with b or who play at a stadium with b

birmingham
bradford
blackburn
barca
bayern

so it should be fine ;).... but hey next year wally and ozil will hopefully have decent seasons.

its a sign! hopefully we plug the necessary gaps for once too

Starting Saturday we conquer the world!

i would take that... i was so happy after the wigan game, though we was poor.

finals tend to be cagey affairs anyway so it's to be expected, even more so when its a big club playing a small club who'll naturally sits back & defends most of the game

the best thing for a neutrel is an early arsenal goal

i disagree to be honest, surely an early arsenal goal could mean a rout? probably an early hull goal would be better for the neutral?

thing is, if hull score first it'll give them even less reason to attack.

i just meant it would bring hull out more if they were chasing rather than playing for pens from the start. fair enough it could be a rout like you say but i'd rather than than one team attacking for 90mins & the other defending.

yeah thats true... i want it to be a good game, but above all else i want arsenal to win.

guess this place will be quite full for it

Any thoughts on WC Golden Football Shoe?

I have a free bet to use so I think I'll back Benzema @ 33/1.

The Honduras game could be a pumping.

Every time I see Neymar play I hate him more couldn't do it.

Maybe Fred thou.

nasri? 😛

no benzema may be a decent punt.

Don't do it.

1) France goals will be spread amongst many players.

2) Don't underestimate American teams on American soil. Nor African. In those conditions, they can really make it hard time for Europeans.

Reason no. 1 is the more important one in this case, though.

Muller at 33/1 could be a good shout. If Aguero didn't have hamstrings made of candy floss I would back him.

I have Muller,

Or

Brazil to win + Luis Suarez golden boot (66/1 Betvictor)

Neymar. Messi or Aguero too.

You favour the long shots I see 😉

Backing a player with a very average scoring record for his country playing for an average team that's European playing in South America. Not for me!

Would rather go for a German if you're looking for a long shot.

European qualification is the toughest.

I think this South American things is being overstated personally maybe a factor for North European but the Spanish French Portuguese and Italians surely not as big a factor.

I fancy Fred to score more goals than Neymar, Aguero to be injured and Messi well I can't argue against Messi.

France are terrible as a team. I'd go Muller.

Balo wanes. Immobile and Cerci will suffocate him.

Reckon any of these drunk bets will win?

Brazil to win (3/1)
Brazil/Suarez golden boot (66/1)
Muller top goal scorer (33/1)
Hazard top scorer - Belgium (5/1)
YYT top scorer - Ivory Coast (5/1)
Uruguay to qualify top of the group (2/1)
Tricast - Too much to go into but it was about 3000/1 haha
England 9 points in group stages - Drunk 12/1
England KO at Quarters (5/1)
Belgium to concede less than 2 (2/1)
Uruguay England, Brazil mexico, Spain Netherlands, France Switzerland, Argentina bosnia, Germany Portugal, Belgium Russia (About 105/1) to qualify from groups
Brazil vs Germany final (25/1)

One of them will win... Surely?

It was a 7 fold on 1st 2nd 3rd for most of the groups haha

Nope, I think Netherlands will do OK.

WC is unpredictable though... It's a very tough group

Hazard and Yaya have to be in with a chance, decent odds too.

England QF KO looks very possible imo.

Other than that, no!

I think you're right,

Expect Uruguay to win our group too. Which is the one I need to come in to break even with the rest of the bets.

I think Uruguay will be a let down. They're totally reliant on Suarez and Cavani (both who've dipped in form a bit recently).

They're against Italy, England and Costa Rica.

I think they'll be OK haha

And they're south American, which will help a lot I think (Remember Ghana...)

On paper... As always with England we know that means very little.

I expect England & Uruguay to qualify, Italy to brawl amongst one another and receive 3 points for being Costa Rica.

Latest Community Article - Scouting Switzerland

I'm sure I submitted my article. Maybe I didn't?

What is the turn around time for an article submitted to it being published, if it's accepted?

Bayern Munich midfielder Thiago Alcantara has been ruled out of Spain's World Cup squad because of a knee injury.

isco wasnt in the squad :O?

he was named in provisional 30-man squad.. it will be trimmed to 23 right? I don't think Isco will be called.

will their be a community round up? i fancy seeing my name in an article for winning the sarjeants game hah

i wish their were 31 qualified teams and 1 team of players picked by fifa, who chose players who were left out of all the other coutries..

Cole, isco, and nasri would be in the mix for this world team

I'm sure they can create a territory, give them a passport, and then change the rules to allow them to play for the World XI.

It's something Fifa would do.

hah maybe it wasnt the best idea, i was just thinking a lot of decent players get left behind every year.

yeah but they would be a world xi from a pool of unpicked players, that would be an amazing twist surely? nasri trying to prove to france why they should have taken him :P.

only rule could be, if you play your home nation you cant play, so nasri couldnt play v france.

haha sorry i take it back.

that is a really decent team. a lot of them are unlucky not to be playing.

Might as well include players like Bale and Ramsey too?

Me and friends gonna do a bet on the 16 teams to go through from the groups:

This is my 16:

Brazil, Croatia
Spain, Chile
Colombia, ivory coast
Uruguay? England?
Switzerland, France
Argentina, Bosnia
Germany, Portugal
Belgium, South Korea?

What are peoples thoughts on that?

Just looked at my Betvictor account...

10 fold accumulator... £1.00, 1500/1...

Only Sunderland let me down, urgh!

I reckon for the World Cup winner, we can pretty much narrow it down to three teams...

Brazil
Argentina
Spain

Can anyone see past these three?

Germany got to be in with decent shout.

Anything can happen in tournament football, wouldn't rule 10-12 teams out.

Brazil naturally
Croatia
Italy

would be my 3

Lads anyone else use the monthly filter in FPL for Mini league purposes ,
ie payout for months eg sept / oct etc ?
My question is what happens with hits , they don't always seem to deduct them thus creating flawed scores within a month and allowing a ' cheat ' scenario ,
Anyone help ?

Hits on the first week of the month aren't counted.

1st week of the month is hit free. Major flaw.

Thanks , why haven't they rectified this ?
I've just realised this and a guy in our league took a -12 and won monthly cash , innocently or not this is pathetic and creates major problems , I've just emailed FPL towers so I await an answer.
Am I right in saying some do a manual check on hits and deduct them to keep scores right ?

Most just use the tables.
FPL don't care. Coding can't handle it.
The program I use has hits included.

They should care , IMHO it's simple maths / coding they should be able to get it right ,
I knew your leagues would take hits into account - as always impeccable TM - that's why I look forward to taking part in a 'just' league !
Have you anything new on the cards this year or more of the excellant oldies on offer ?
( btw I'll let you know the reply from Fpl towers )

Of course they should.
No new ones atm. Not sure I will be running them.
Likely to be a lot busier next season.

I was of the thinking they always came of your total?

Early season I was in the hunt for free prizes on the monthly basis and remberung totting up scores - hits because I three way tied for £100 free bet.

Wow just read above madness.

Yea - seems crazy , it has definatley skewered my main mini league and only worked it out when talking to one of the lads .
Hits are part of the game and should be deducted in monthly mini leagues etc , seems retarded tbh Tony , I've emailed them - you/all should do the same ,
On your home page (while logged in ) > Help > contact us and give em loads !!!

Ah Brilliant! I think I might do a piece on it nearer K/O if there are a few on here.

The low clean sheet points (2 for defenders) and penalty save points for keepers make me think it might we wise to spend little on defence and maybe slightly more on a keeper.

says you need to be FCA registered to win prizes
Fantasy Casual Association?

Yeah it's industry specific unfortunately, I should have said it's not open to all.
Hopefully placing well will be achievable, the proportion of ghost teams in IFA competitions is usually very high.

did ENR make announcement about fantasy WC tourney
last I read he was annoucing it tomorrow which was two days ago so would be yesterday being today is today
anything?

Afternoon fellas. I'm looking for tables of WC Qualifier statistics by squad / player, for comparison purposes, listing games played, goals scored / conceded, and assists. Basically I want to be able to judge how nailed-on a player is likely to be, and how he performed in qualifying, without searching back through records, game by game, player by player. Does anything like that exist out there?

On the FIFA site you can check each player's record individually, but there's no assist listing.
ESPN has an assist table for the European and South American groups.

Is there a better stats comparison source out there that I'm missing? Many thanks!

NEW ARTICLE - FORWARDS OF THE SEASON

Fantasy World Cup Goalkeeper rotations.

Obviously, we don't know about prices yet, but these should be cheap picks, based on the opposition and strength of their team. The Unibet site will allow 3 transfers per round, so constant rotation is allowed for that site.

Keepers-
Round 1: Bernaglio (Swiss, vs Ecuador), Akinfeev (Russia, vs South Korea), Enyeama (Nigeria, vs Iran), Barry (Ivory Coast, vs Japan), Delgado (Columbia, vs Greece), Kingson (Ghana, vs USA)

Round 2: Pletikosa (Croatia, vs Cameroon), Karnesis (Greece, vs Japan), Begovic (Bosnia, vs Nigeria), Enyeama (Nigeria, vs Bosnia), Banguera (Ecuador vs Honduras)

Round 3: Akinfeev (Russia, vs Algeria), Bernaglio (Swiss, vs Honduras), Begovic (Bosnia, vs Iran), Barry (Ivory Coast, vs Greece), Delgado (Columbia, vs Japan)

Hope this helps.:)

Put this on earlier but nobody responded, so I'll try again.

Fantasy World Cup Goalkeeper rotations.

Obviously, we don't know about prices yet, but these should be cheap picks, based on the opposition and strength of their team. The Unibet site will allow 3 transfers per round, so constant rotation is allowed for that site.

Keepers-
Round 1: Bernaglio (Swiss, vs Ecuador), Akinfeev (Russia, vs South Korea), Enyeama (Nigeria, vs Iran), Barry (Ivory Coast, vs Japan), Delgado (Columbia, vs Greece), Kingson (Ghana, vs USA)

Round 2: Pletikosa (Croatia, vs Cameroon), Karnesis (Greece, vs Japan), Begovic (Bosnia, vs Nigeria), Enyeama (Nigeria, vs Bosnia), Banguera (Ecuador vs Honduras)

Round 3: Akinfeev (Russia, vs Algeria), Bernaglio (Swiss, vs Honduras), Begovic (Bosnia, vs Iran), Barry (Ivory Coast, vs Greece), Delgado (Columbia, vs Japan)

Hope this helps.
Scout Picks
Gameweek 26
Coleman

Ivanovic

van Dijk

Daniels
Payet

Oscar

Roberto Firmino

Ozil
From the Community…
Comments
Hot Topics
Articles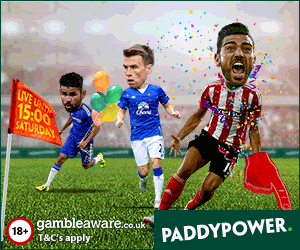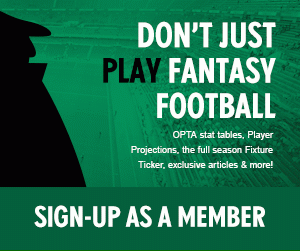 The Watchlist
Goalkeepers
Player
Club
Factors

Up

Forster
SOT

A

,

Vs

Down

Butland
STO

C

,

Vs

Up

Schmeichel
LEI

A

,

Vs

Up

Courtois
CHE

B

,

Vs

No Change

Boruc
BOU

B

,

Vs

Up

Hennessey
CPL

C

,

£

No Change

Cech
ARS

A

,

VsX

Up

Fabianski
SWA

B

No Change

De Gea
MUN

B

No Change

Adrián
WHM

B
Defenders
Player
Club
Factors

Up

Fuchs
LEI

A

,

Vs

,

£

Up

van Dijk
SOT

A

,

Vs

Up

Daniels
BOU

A

,

Vs

,

£

Up

Dann
CPL

A

No Change

Ivanovic
CHE

B

,

Vs

No Change

Alderweireld
TOT

B

No Change

Bellerín
ARS

B

,

VsX

Up

Johnson
STO

C

,

Vs

No Change

Cresswell
WHM

B

Up

Van Aanholt
SUN

A

No Change

Williams
SWA

B

,

£

Up

Smalling
MUN

C

Up

Coleman
EVE

B

,

Vs

Down

Dawson
WBA

C

Down

Moreno
LIV

C

,

Vs

Down

Kolarov
MCI

B

,

Rest

,

Inj
Midfielders
Player
Club
Factors

Up

Mahrez
LEI

A

,

Vs

No Change

Payet
WHM

B

,

Vs

No Change

Dele Alli
TOT

A

,

Inj

Up

Arnautovic
STO

C

,

Vs

,

Inj

No Change

Ozil
ARS

C

,

VsX

Up

Eriksen
TOT

A

Up

Antonio
WHM

A

,

Vs

,

Rest

,

£

Up

Sigurdsson
SWA

A

,

OoP

Down

Barkley
EVE

B

,

Vs

Down

Roberto Firmino
LIV

A

,

VsX

,

OoP

Down

Sánchez
ARS

C

,

VsX

Up

Lingard
MUN

B

,

Rest

,

£

Up

Khazri
SUN

B

Up

Oscar
CHE

B

,

Vs

No Change

Wijnaldum
NEW

B
Forwards
Player
Club
Factors

Up

Vardy
LEI

B

,

Vs

No Change

Kane
TOT

A

Down

Aguero
MCI

A

Up

Diego Costa
CHE

A

,

Vs

,

Inj

Up

Rooney
MUN

A

Down

Ighalo
WAT

C

,

VsX

Down

Lukaku
EVE

C

Up

Afobe
BOU

A

,

Vs

No Change

Giroud
ARS

B

,

VsX

,

Rest

No Change

Defoe
SUN

A
Selection Factors
| | |
| --- | --- |
| A, B, C | Current Form |
| Vs | Favourable Fixtures |
| VsX | Unfavourable Fixtures |
| Rest | Rotation Risk |
| Inj | Injured/Returning from Injury |
| OoP | Out of Position |
| £ | Potential Bargain |
| Sus | Suspended/Near Suspension |
| Player | Team | YC |
| --- | --- | --- |
| Colback | NEW | 9 |
| Yacob | WBA | 9 |
| Byram | WHM | 9 |
| Lucas | LIV | 8 |
| Jones | SUN | 8 |
| Westwood | AVL | 7 |
| Diego Costa | CHE | 7 |
| Huth | LEI | 7 |
| Can | LIV | 7 |
| Mangala | MCI | 7 |
| Shelvey | NEW | 7 |
| Pieters | STO | 7 |
| Dele Alli | TOT | 7 |
| Dier | TOT | 7 |
| Brunt | WBA | 7 |
| McClean | WBA | 7 |
| Noble | WHM | 7 |
"All players will blank a few times during the season. When almost all do it in the same Gameweek, it is tough to take, but that's just the dark side of probability."

Abreu 42 Community regular