Sometimes we're so knee-deep in Fantasy Premier League, we forget a fundamental reality: the players actually have to play the games.
Sport is one of the most unpredictable forms of entertainment, based on the chaotic nature of physics, environmental factors and split-second decision making. No matter how hard a player trains, he can't control the decisions of his opponent or the wind in the air. This allows for plenty of human error and complete nonsense. Saying FPL managers get irritated at the random nature of the game is an understatement, but that can also provide some solace when it reminds us of how little control we really have. No matter how much research you do, the players still need to kick the ball around for ninety minutes and see what happens.
The Premier League is the most competitive league in the world. It's always interesting and constantly surprises us. That's why we love it, but it's why we want to rip our hair out and quit the game when the ball bounces off a defender, off the post, off the keeper and in.
That's why I'm done with clean sheets.
I'm not saying you shouldn't consider clean sheet potential when making strategic decisions. Obviously, clean sheets should influence your research and thought process, especially when you're considering a transfer. The problem is, while all defenders and goalkeepers have clean sheet potential every gameweek, they all have the potential to let us down no matter how strong their defense. At least for this season, the numbers regarding clean sheets seem too thin to support a strategy that heavily revolves around them. Even the best goalkeeper in the world won't stop the best shot of the season, and nobody knows who, when, or where that will happen. That brings me to the player that first got me thinking about how clean sheets are more of a risk than a security. No, it wasn't Laporte, but we'll get to him. It was Holebas.
I know you wouldn't bring him into your team for clean sheets, but I'm still learning and at the time was looking for clean sheets from all of my defenders. But still, it got me thinking. When he totalled one point
from gameweek 5 to 8 (that's 0, 1, 1, -1), it planted an idea in my mind that hasn't gone away: clean sheets suck.
Actually, at the time, I was enjoying life with Ederson. He returned 26 points from gameweek 5 to gameweek 8, as opposed to Holebas' single point in the same timespan. My opinion of clean sheets was still teetering on the fence.. then, I got Laporte in gameweek 13. How can you go wrong with a City defender who plays 90 minutes every game when Ederson is keeping clean
sheets without even trying? Well, you can!
From gameweek 14 to gameweek 20, Laporte and Ederson combined for an epic total of 26 points. As I mentioned above, Ederson achieved that on his own in four games earlier in the season. So, how do you rely on this inconsistency?
I decided to start looking at some basic stats to see how reliable a clean sheet really is, even from the best teams in the league. Doing so ultimately convinced me that, when it comes to my own defenders and keepers, I'm going to focus primarily on potential offensive returns and saves.
Here are some of the numbers I was looking at; my research, and my brain, are very basic, but I think the numbers highlight some key ideas that we can all consider when strategizing for the rest of the season.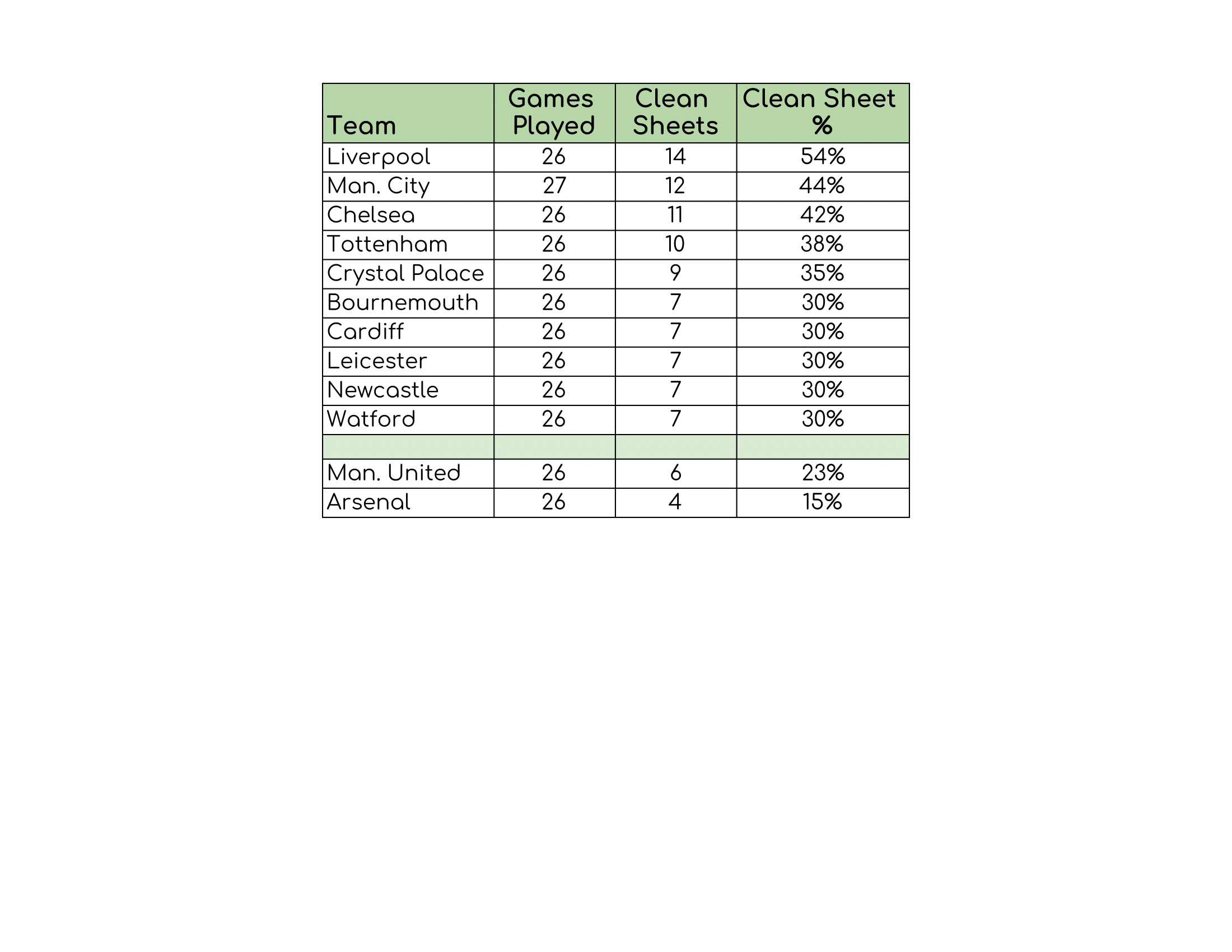 First, I just wanted to know how many clean sheets each team actually had after 26 gameweeks and in what percentage of those games they achieved clean sheets. When I consider a defensive player, I weigh the overall quality of the team pretty heavily in my decision. In my opinion, combined with my bitterness towards clean sheets, Liverpool seems to be the only legitimate team here that can offer any consistency.. the fact that only one team has over a 50% clean sheet percentage is surprising to me, and it highlights yet another reason why Liverpool are doing so well. Some consider Manchester City to be the best team on the planet yet they've only kept 12 clean sheets out of 27 Premier League games.
After 26 gameweeks, only four teams have kept 10 or more clean sheets. Worst of all, the five teams tied for 6th place for clean sheets only have a total of seven each.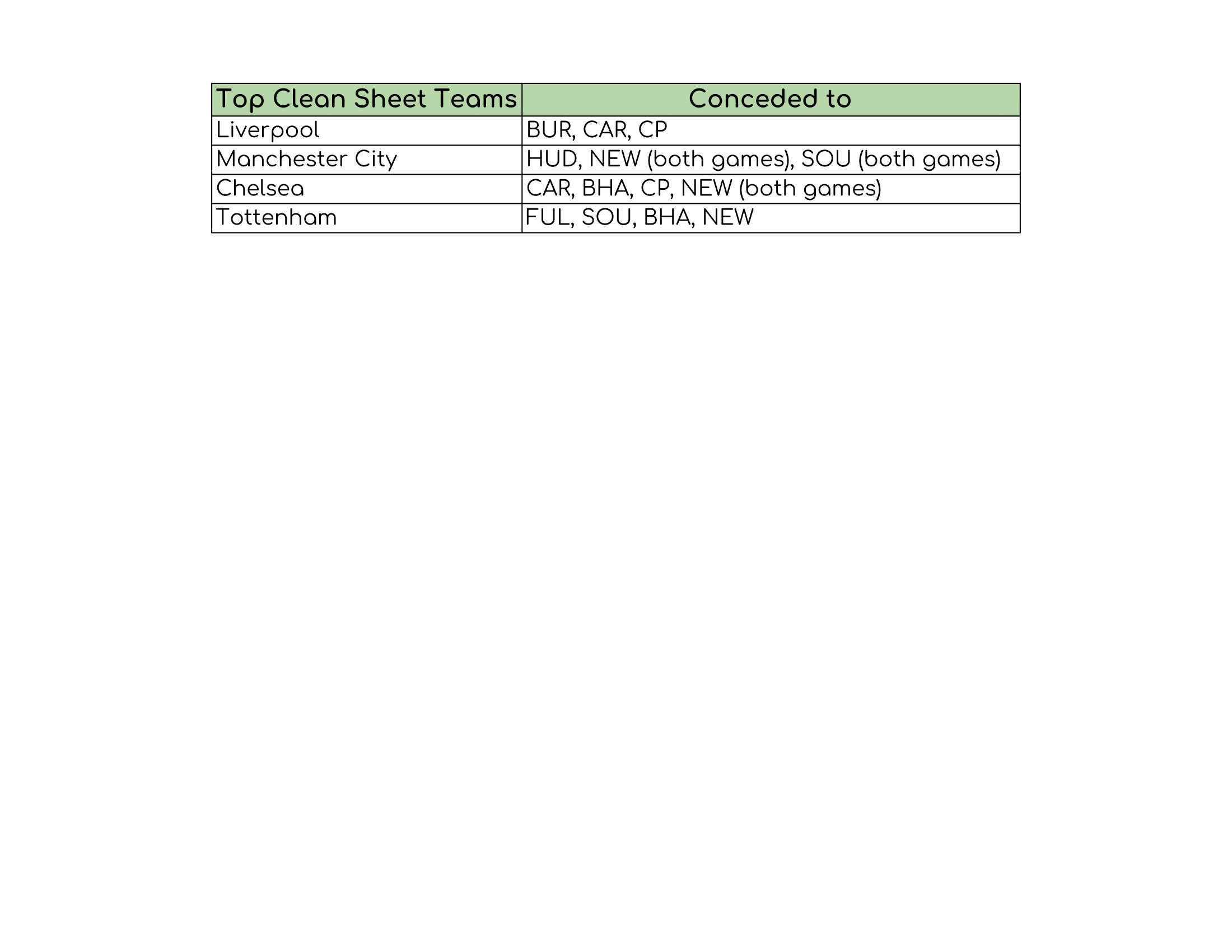 Here are the top four teams ranked by number of clean sheets and the lower-table teams that still managed to score against them. Betting on these teams keeping clean sheets is unreliable when they can't do it against some of the worst teams in the league; even the lowest-ranked teams have
top-quality players who can burst through and destroy your clean sheet with a moment of genius.
So, how do the clean sheet statistics compare to some of the top players in the league, and how often they get at least 6 points (same for a keeper or defender who gets a clean sheet)?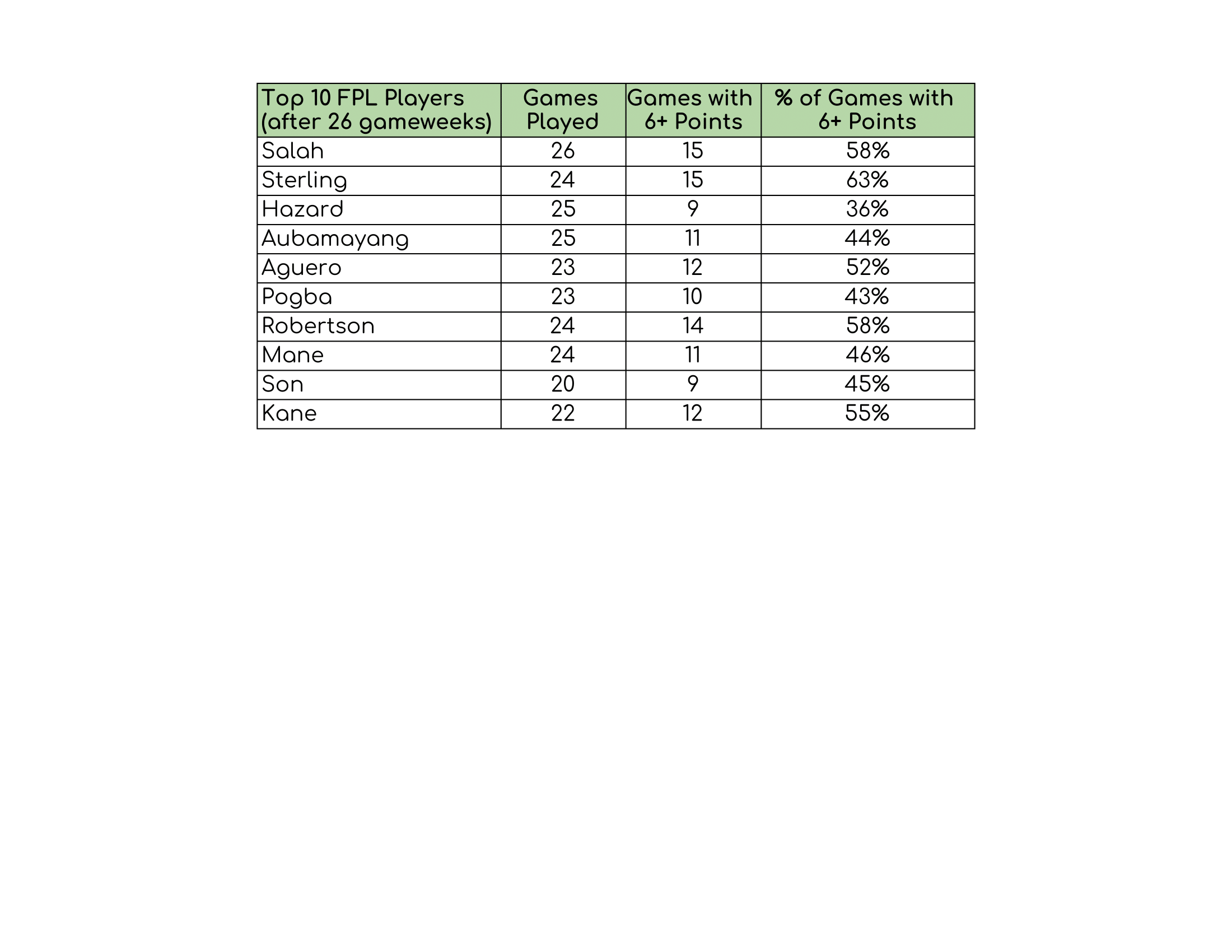 Defensive players have one chance at a clean sheet, while forwards and midfielders (as well as forward-thinking defenders) have as many chances as they can create. When comparing defensive players against offensive players, it seems the best midfielders in FPL would have better odds of scoring 6 points or more than the best defenders in FPL. Even if a defender is on the best team in the league, they can still concede at any moment and give up their primary source of points.
The league is shifting to a more forward-thinking mindset and I think it's smart for FPL managers to try the same, pushing the defensive players to expand their roles into the offensive side of the field. It's awesome to watch, and it's great for FPL.
Going forward, I'll be focused on fielding three offensive-minded defenders each week who like to forget they're supposed to play defense. Players like Doherty and Robertson are showing that FPL defenders can do more than play for clean sheets, so I'm going to try the same in FPL.
What do you think about clean sheets this season?
Are you done with them too, or are you still confident in the points they'll bring you?
How much do you focus on a defender's attacking potential?
Written by Chris Kish
Twitter: @MoonriseWriting
My Team: https://fantasy.premierleague.com/a/entry/962241/history