Squad balance and the influence of the Fantasy Premier Leagues's new Bonus Points System on our formations were amongst the key discussions taking place on the boards this week. We also look at some of our posters' worst ever Gameweeks and catch up with the latest from our community's leagues.
The Hottest Topics
The international break provides a useful time for Fantasy managers to take stock of their team. It's a time to consider playing the market with a wildcard, saving transfers or waiting nervously for your players to return from their travels unscathed.
In our discussion on international break strategy, Newarse was among those looking to invest in Wayne Rooney ahead of Gameweek 4's clash with Crystal Palace, while SAAB admitted he was "dying to" wildcard. Sadly Rooney's head injury has since put paid to Newarse's plans.
For those considering wildcarding over the break, though, Get In urges caution. Similarly, Triggerlips has also been looking at how much a wildcard is worth and wonders whether it could be best used later in the season when the double Gameweeks mount up.
Impressive Tackle's post late last week on squad balance proved one of the most popular yet. He looks at the ideal spread of money across the team, which will come in handy for those currently on a wildcard.
Elsewhere, Southampton fan Bayern Badonde has been keeping a close eye on his team's midfield in an attempt to help us better understand their mid-price options. With so many forward options on offer this will prove useful to those looking for an alternative to Rickie Lambert.
For many, especially those that captained Robin Van Persie or Edin Dzeko, Gameweek 3 was a horror show.  When we asked what has been your worst ever Gameweek, SW6 had last season's Gameweek 2 tally of just 27 firmly etched in his memory. Similarly, Adam West will never forget selling Dimitar Berbatov just prior to the Bulgarian putting five goals past Blackburn for Man United.
Finally, the Bonus Point System continues to vex the community, especially the lack of points for assists. Blue Tiger was on hand to run the rule over the new system and show the dramatic changes it is making to our formations.
Community Leagues
In HeelsOverHead's Worst To First – 2 Million+ Club league, open to those with an overall worse than two million in the first five gameweeks, Goyko Locos continues to lead the competitors epic race for a respectable rank. He is now 920,000th in the FPL game with no hits or wildcard. To join the other 18 teams in this league the code is 459213-545168.
Meanwhile, in Thomas and Peppie & Felix's Friends Life H2H Competition Thomass, Forca Inter and Daniel top each of their three groups.
Forca Inter is also one of the five league leaders in In Tommy We Trust's  competition. The other four are Smarty Pants, Tommy Tour, Mind Over Mata and Binji.
Torres Magic's Last Man Standing competition saw 47 knocked out, with 934 left. The safety score was 34. In his Early Bird league 475 qualified and 256 were knocked out.
With a score of 207 Dr Ennet leads Fifa Las Vegas's league, closely followed by Somebody's Gonna Get Lit Up on 205 and Messimerized on 199.
In FFS UEFA's leagues Shipsontrev was the top weekly scorer with 68 points. Lateriser12's captaining of Olivier Giroud earned him this week's Order of Extreme Valour award. Special mention goes to The Light Knight for his audacious decision to hand the armband to Hatem Ben Arfa. Tommy Tour is another doing well. He sits in first place in their La Liga on nine pts and is 529th in the world.
FFS Uefa have also announced details of their latest tournament, which is open to 737 community members and based around the FA Cup. More details can be found here and the registration form can be found here. Those already involved in the FFS UEFA leagues and those who applied unsuccessfully to be a part of that competition have all been given an automatic space so do not need to apply.
Rmt please lads

Mig (mcgregor)

Sakho zab coleman (chambers)(shaw)

theo ozil lamela (kasami) (barkley)

Sturridge giroud campbell

Lamela & Sakho punty, but could well pay off with the fixtures.

Would prefer an upgrade campbell myself.

Nice one cheers mate like campbell but may have to upgrade

Migs - (Davis)
Mertsacker- Ivanovic - - Collins - (Toure Parr)
Walcott - Silva -Mirallas – Nolan (Thomas
Lambert - Giroud – Soldado (C)
Got 1FT, with 1.4m in the bank

A) Nolan to Lamela & -4 hit for Soldado to Benteke
B) Mirallas to Lamela & -4 hit for Soldado to Sturridge
C) Nolan to Fellani & -4 hit for Soldado to Sturridge
D) Keep FT
E) Any suggestions for transfers?

B mate lamela is the main man new messi and you need to get rid of soldado who is awful for sturridge

----------------------MIgs-----------------
---Zabaletta---Coleman----Collins---
---Ben Arfa---Walcott---Lamella---Brady---
----Benteke---Van Persie----Sturridge----

Subs: Chester, Burner, Ward-Prowse

What do you think?

Need to get in more arsenal giroud and ozil at least

I like it

It's a damn shame that we won't get to see Mata wek in week out, a great player. I understand the big clubs have to have a stronger depth these days, what with the Champions league and what not not, but the Premier league is really starting to suffer for it. Mata, Kagawa, Nasri etc all great to watch and could well play bit parts this year.

Is anyone "essential"? I don't think so, but wondered what people's opinions were.

Ozil mate

Walcott

Coutinho

Sturridge

Sakho

Mignolet

Benteke

Lamela

Coleman

Barkley

Nolan

Gerrard

Only 3 for me: RVP, Walott, Mignolet.

Hello guys!

May I know if there is a cap as to how much value a player can gain in a GW? Heard it might be 0.3/week, if there's a cap at all. Is the 0.3 for each week or for each GW?

For instance, there are 2 weeks in this GW, can it gain 0.3 this week and 0.3 again next week for a total of 0.6 this GW?

Thanks for that!

I am on a wc this week. So if I got a player I don't want who has already risen 0.2, I might as well sell him now to earn 0.1, then put another riser in his slot to hopefully earn another 0.1 if the new player then rises 0.2 as well?

There is a cap per gameweek, not per calendar week - so a player can only go up 0.3 between GW2 and GW3. Although the 0.3 max rise has not been tested this season as no-one has had enough transfers in yet to prove it.

Thank you for clearing that up, I knew that theory wasn´t yet tested this season.

any UCL fantasy leagues that I can join?

never realized that people getting rid of Soldado this gw

compleate madness

guess i understand morons who doing Walcott-Ozil

but getting rid of Soldado is compleate BS!

Morons > people choosing something different to you

Either Casuals or WCrs IMO

Soldado could go mental vs Norwich

i rate lambert higher than soldado for this gw

Expecting BIG things from Lamela, he's not far off being an OOP striker & looks pretty nailed on. I can understand flogging soldado as Lamela & walker gives nice attacking/defensive coverage of spurs & Benteke/Sturridge/Giroud are cheaper than Soldado. Crucially Lamela has the physique & pace which should enable him adapt pretty quickly & hit the ground running... Wouldn't be getting rid of walcott though - he's uber essential alongside Giroud.

This is my team

Boruc. Foster
Zaba. Coleman. Collins. Chester. Ward
Walcott. Silva. Coutinho. Mirallas. Jedinak
Soldado. Benteke. Giroud

Worth wildcarding to get in RVP? Already taken a four point hit.

We have been thru this.



Just looking a few more opinions 😉

Why on earth would you WC with this kind of team?

Not worth selling any of your frontmen so good to go

not worth it

but if u want him then make no changes in week 5 and get him for week 6

I had pretty much that exact team and I've wildcarded

Predictions for Man Utd lineup vs Crystal Palace.

De Gea

Smalling Ferdinand Vidic Evra

Carrick Fellaini

Welbeck Rooney Zaha

RVP

Think Moyes might take the opportunity to field Zaha over Giggs in this match.

You sure?

Zaha wasn't even on bench & Nani returned from injury as a sub

May be you're right but personally I think Nani has good chance to start

Nani will start IMO

He looked good as sub & a very good differential against Palace I reckon

If Jones & Rafael aren't fit Valencia at RB?

ddg
rafael ferdinand vidic evra
carrick fellaini
valencia rooney welbeck
rvp

This would be great. Nothing better than an injury making a tough decision for you 😉

Should I wildcard this team

Mignolet (marshall)

coleman zabaleta turner (brayford) (baker)

barfa walcott coutinho silva (morrison)

sturridge soldado giroud

To this team

Mignolet (daniels)

coleman zabaleta collins (chester) (baker)

coutinho walcott barfa pennant (brady)

RVP giroud sturridge

It's only once you've wildcarded that you realise how stressful the problem RVP presents is. There will not be an opportunity to get him without significant hits later on...so it's now or seemingly not for a long and continuously nervous wait

if i want him i will work him in over 3 weeks without hits, or 2 weeks with one hit if in panic.
not losing sleep over it

...you won't have him for CP....he scores 10pts...you don't get him, telling yourself he plays Citeh(a)...he scores again...he shoots up to 14.5m during the next Int break just in time for WBA/sun/STOKE/SOUTH...

His price surely won't rise very much, even if he does bang the goals in. He's owned by nearly half the players already and he's not an 'easy' transfer (it takes a lot of rearranging to get him in).

Who do you think you are?

An estuary?

There is another 1.5mill potential buyers. Very few of the top ranked players own him. Panic will spread like a wildfire.



Yep. I always get my team to the point where I have ~18m left for 1 striker & 1 midfielder... and it's the choice between an "RVP & nobody",ora "Sturridge/Michu", "Benteke/Lamela", "Soldado/Silva"

Leaning towards 2x9m's to be honest. Sturridge in particular looks like he won't be far off matching RVP goal for goal especially with Lpool's fixtures

I'm getting RVP now & when I WC in future I'll be selling him (may be GW 10?) to reconstruct my team

Kind of reverse strategy I know 😐

I'm wildcarding and not getting him, just can't have it that he's worth 4.5-5m more than Benteke/Sturridge etc. That's a huge difference to the rest of your team

Would you WC now, with this lot?

Boruc Marshall
Zaba Terry Toure Ward Burner
Wally Silva Brady Kim Williams
RVP Benteke Sturridge

I've taken 1 hit this week to get this team and didn't intend to WC. Would like to get in Migs, Vidic, Collins and possibly Nolan in coming weeks, so it's a case of whether WC is worth more getting these players before further prices rises or worth keeping for future DGWs. What do you think? Cheers

I did that last season leading me to take a lot of point hits in order to save it, lowering my ranking in a way that I spent the rest of the season just trying to get inside 100k. Ended up spending it on Xmas in what I thought it would be a genius move bringing in RvP and Rooney.

Try to save it, but not at a big point hit expense is my advice.

Anybody considering Pennant as their 4.5 filler?

Wont be playing that much with the new arrival and has only made sub appearances so far
Ward- Prowse is the top 4.5 pick IMO

Trying to get my head around how the transfers work.
Is it every 50,00 transfers in a player will go up 0.1?

And if I want to use my WC as a money maker, after the next price rise, the se guys will go up?

Whittaker- 46538
Redmond- 39000ish (maybe?)
Hernandez- 97542
Lampard- 46529

And do prices change overnight every-night or on specific dates?

Bit confused, :-/ Please help?

Have a nice time

so,wich big player will injuree and totaly messed up our fpl plans?

New Post

Migs - (Davis)
Mertsacker- Ivanovic - - Collins - (Toure Parr)
Walcott - Silva -Mirallas – Nolan (Thomas
Lambert - Giroud – Soldado (C)
Got 1FT, with 1.4m in the bank

A) Nolan to Lamela & -4 hit for Soldado to Benteke
B) Mirallas to Lamela & -4 hit for Soldado to Sturridge
C) Nolan to Fellani & -4 hit for Soldado to Sturridge
D) Mirallas to 7.2 mid or less (e.g. hernandez) & -4 hit for Lambert to Sturridge
E) Mirallas to 7.2 mid or less (e.g. hernandez) & -4 hit for Lambert to Bentekkers
F) Keep FT
G) Any suggestions for transfers?

You have 1FT & 3M in the bank. You're hovering around the 1M mark in FPL. Would you spend the FT on for instance Dzeko->Giroud before Giroud rises even more, despite the fact he might get injured in internationals?

Vorm (Davis)
Johnson - Zabaleta - Coleman (Brayford, Baker)
Silva - Coutinho - Walcott - Snodgrass (Barkley)
Soldado - Dzeko - Giroud

I'm thinking of going 4-3-3, with how the bps are being distributed this season.

So thinking of:

Johnson to Sakho (Johnson doubtful)
Snodgrass to Ward-Prowse
Brayford to Terry
Dzeko to Benteke

Also, Coutinho to Hazard at some point, to a team of:

Vorm (Davis)
Zabaleta - Sakho - Terry - Coleman (Baker)
Silva - Hazard - Walcott (Ward-Prowse, Barkley)
Soldado - Benteke - Giroud

I see how people seems to be favoring Sturridge over Soldado. But it seems to me Soldado is certain to be the main forward for Spurs this season. Sturridge has to worry about Suarez.
Scout Picks
Gameweek 26
Coleman

Ivanovic

van Dijk

Daniels
Payet

Oscar

Roberto Firmino

Ozil
From the Community…
Comments
Hot Topics
Articles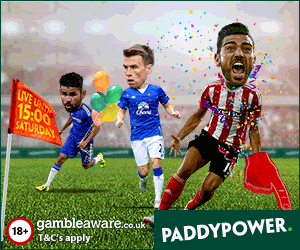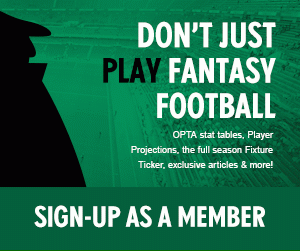 The Watchlist
Goalkeepers
Player
Club
Factors

Up

Forster
SOT

A

,

Vs

Down

Butland
STO

C

,

Vs

Up

Schmeichel
LEI

A

,

Vs

Up

Courtois
CHE

B

,

Vs

No Change

Boruc
BOU

B

,

Vs

Up

Hennessey
CPL

C

,

£

No Change

Cech
ARS

A

,

VsX

Up

Fabianski
SWA

B

No Change

De Gea
MUN

B

No Change

Adrián
WHM

B
Defenders
Player
Club
Factors

Up

Fuchs
LEI

A

,

Vs

,

£

Up

van Dijk
SOT

A

,

Vs

Up

Daniels
BOU

A

,

Vs

,

£

Up

Dann
CPL

A

No Change

Ivanovic
CHE

B

,

Vs

No Change

Alderweireld
TOT

B

No Change

Bellerín
ARS

B

,

VsX

Up

Johnson
STO

C

,

Vs

No Change

Cresswell
WHM

B

Up

Van Aanholt
SUN

A

No Change

Williams
SWA

B

,

£

Up

Smalling
MUN

C

Up

Coleman
EVE

B

,

Vs

Down

Dawson
WBA

C

Down

Moreno
LIV

C

,

Vs

Down

Kolarov
MCI

B

,

Rest

,

Inj
Midfielders
Player
Club
Factors

Up

Mahrez
LEI

A

,

Vs

No Change

Payet
WHM

B

,

Vs

No Change

Dele Alli
TOT

A

,

Inj

Up

Arnautovic
STO

C

,

Vs

,

Inj

No Change

Ozil
ARS

C

,

VsX

Up

Eriksen
TOT

A

Up

Antonio
WHM

A

,

Vs

,

Rest

,

£

Up

Sigurdsson
SWA

A

,

OoP

Down

Barkley
EVE

B

,

Vs

Down

Roberto Firmino
LIV

A

,

VsX

,

OoP

Down

Sánchez
ARS

C

,

VsX

Up

Lingard
MUN

B

,

Rest

,

£

Up

Khazri
SUN

B

Up

Oscar
CHE

B

,

Vs

No Change

Wijnaldum
NEW

B
Forwards
Player
Club
Factors

Up

Vardy
LEI

B

,

Vs

No Change

Kane
TOT

A

Down

Aguero
MCI

A

Up

Diego Costa
CHE

A

,

Vs

,

Inj

Up

Rooney
MUN

A

Down

Ighalo
WAT

C

,

VsX

Down

Lukaku
EVE

C

Up

Afobe
BOU

A

,

Vs

No Change

Giroud
ARS

B

,

VsX

,

Rest

No Change

Defoe
SUN

A
Selection Factors
| | |
| --- | --- |
| A, B, C | Current Form |
| Vs | Favourable Fixtures |
| VsX | Unfavourable Fixtures |
| Rest | Rotation Risk |
| Inj | Injured/Returning from Injury |
| OoP | Out of Position |
| £ | Potential Bargain |
| Sus | Suspended/Near Suspension |
| Player | Team | YC |
| --- | --- | --- |
| Colback | NEW | 9 |
| Byram | WHM | 9 |
| Lucas | LIV | 8 |
| Jones | SUN | 8 |
| Yacob | WBA | 8 |
| Westwood | AVL | 7 |
| Diego Costa | CHE | 7 |
| Huth | LEI | 7 |
| Can | LIV | 7 |
| Mangala | MCI | 7 |
| Shelvey | NEW | 7 |
| Pieters | STO | 7 |
| Dele Alli | TOT | 7 |
| Dier | TOT | 7 |
| Noble | WHM | 7 |
"All players will blank a few times during the season. When almost all do it in the same Gameweek, it is tough to take, but that's just the dark side of probability."

Abreu 42 Community regular