With the first Wildcards of January being fluttered, the community was abuzz with advice on the best picks, rotation pairings and formations for our newly-assembled teams. Elsewhere this week, the community attempted to decipher the secrets of some of the most consistent Fantasy managers around – is it skill or pure luck at work? We revisit this and other discussions, before calling in on the progress of a variety of tournaments taking place within the FFS community.
The Hottest Topics
With the January Wildcard available this week, there was a flurry of hot topics looking at the various strategies and key acquisitions available. Triggerlips's post was one of the week's most popular and contains some valuable advice such as anticipating price falls and delaying the Wildcard to the final Gameweek. Despite such advice, some Fantasy managers simply could not wait to start tinkering with their sides. Kingston and Wakey were amongst the early Wildcarders to make themselves known during our discussion.
Good on Zidane's Floor was also on hand to offer valuable input on some of the potential January wildcard bargains. This includes those who are set to return from injury, with Southampton's goalkeeper Artur Boruc and Liverpool's left back Jose Enrique amongst the array of names offered up. Meanwhile, GK was busy researching wildcard formations and has supplied a list of some of the key bargains to earmark during the January sales.
The "ubers", a term used to describe those who favour a very cheap defence, were also out in force this week in an attempt to convince Fantasy managers of the benefits of rotating a budget backline. In Koflok's guide to cheap defensive rotation he also takes into account the need to include at least one premium defender, with Everton's Seamus Coleman the pick of the bunch. Around Coleman he recommends rotating defenders from, among others, Hull, Stoke and Newcastle.
Another of our most popular wildcard posts during the last week was this epic guide to defender and goalkeeper rotations from Innsie.
Elsewhere, Granville had his say, stating that the Wildcard could prove the perfect time to ditch this season's favoured 3-4-3 formation and opt instead for a 3-5-2 line-up with a cheap striker. Among the budget forward options he's considering are Southampton's Jay Rodriguez and Norwich's Gary Hooper.
Gargamel's Gargatron, the tool which helps Fantasy managers analyse their captaincy and bench decision, has been widely used among the community. He returned with a post this week to tell us of some updates, including the ability to show how far away from a particular rank you are in terms of points. Depressing reading for some – Mark should certainly steer clear.
Meanwhile, Lee AFC spotted that certain managers, such as our live Hall of Fame leader Evs and last year's Fantasy Premier League (FPL) winner Spiderm4tt, seem to be achieving an incredible level of consistency. He asked whether they are just lucky or among the most skilful FPL players around. Luck vs Skill – an age old debate and a definite can of worms.
The Community Tournaments
FFS UEFA's league competitions have ended. Last week we had just enough time to reveal that our moderator Evs had scooped the English Premier League crown. The full list of winners also include rest of Europe winner Djerbil, Ligue 1 champion GoonerByron and Bundesliga victor Billy Ketsu. In addition, two other members of the Fantasy Football Scout team emerged victorious, with our resident physio expert Facer scooping the Serie A crown and moderator Athletico Timbo taking the title of La Liga winner. The FFS UEFA Council has also revealed that it has no plans for any further league competitions but instead will concentrate on tournaments such as its Beach Soccer World Cup.
Those topping In Tommy We Trust's All Things leagues are Evs, Bootsy, Athletico Timbo, Billy Ketsu, Jambo17 and Koneheads.
Thomass' Big Bash League Tournament has now reached the knockout stage. In Gameweek 22 the semi-finals will take place where Evs and fellow moderator Torres Magic's Sydney Sixers take on our Sky game expert D1sable and BlueLion, aka Perth Scorchers. The other semi-final will feature Thomass and Giggs Boson's Sydney Thunder against Melbourne Stars, the team name of Pleased to Michu and Rohan.
In Torres Magic's Last Man Standing competition 35 managers left, with 271 remaining. Blue Teets leads his After Xmas League. His Millionaire Club & January Wildcard League start in GW21. Codes to all TM's leagues can be found here.
Hypothesis:

The more desperate Moyes' situation gets, the more minutes Januzaj will play.

Discuss.

Moyes isn't desparate.

His job is safe and he will continue to manage in his own way. Janu will be used sparingly.

Hasn't he started something like 5/6 games?

There's a long way to go.

I'm sure the MUN midfield will find some form and Janu will be used less in that case.

Moyes definitely rates him. Just checked, and of the 5/6 games he started, he was subbed off only when manu were winning. When they needed goals, he played 90

Shows moyes sees him as important

Not WC-ing yet and limping int GW21 with this lot:

Marshall
Coleman, Mert, JEvans
Hazard, Sterling, Cabaye, Walcott
Negredo, Rooney, Suarez

Mannone, Shelvey, Gabbidon, Rosenior

1FT to replace someone and I'm hoping Cabaye and Rooney will play some part.

Probably will be when we get some news.

Not too thrilled with relying on Shelvey or Gabbi but that's what your bench is for.

Looks decent? Rooney and Cabaye probably aren't out for long, if at all in Rooney's case. Have a smoke, kick back and wait for pressers.

Sound advice.

Lighting up.......now!

mannone / marshall

zabaleta / mertesacker /coleman /dawson /evans

ozil / hazard / cabaye / barkley / eriksen

rodriguez / saurez / aguero

w/c if wally is out....

Just filtered news on Wacltt. ESPN reporting hes out for a MONTH. FECK!

Ok.
I'll wait for something better.

Guess ESPN not rated onn here :S

Are you watching Press Pass? I am now in the background.

If Rooney and Walcott a both ruled out I could save a FT and still field a decent XI!

#screwjanWC

But I'd definitely use my FT.. Jus sayin...

Hey if they are only ruled out for one game every chance I will save FT

Sterling & ward/ terry would come in for me, not sure if this is bossing it also

any chance Wally just 'jarred' his knee. that's kind of what it looked like. Painful and a bit swollen but not normally out for that long with it.

#clutching?

Having read SAF biography, I couldn't help but notice the part which says: "as I slipped out of the picture, David (moyes) brought in three of his own staff.... Which meant that Rene meulensteen, mike phelan and Eric Steele lost their jobs. It was David's call. I told home that if he kept my staff, I would be delighted"

That, right there, tells me that SAF wanted Moyes to keep our main back room staff. Something Moyes chose to ignore. Changing a manger that has been in his position for 26 years is a dramatic change, but changing the whole back room staff on top of this, has caused shit stir amongst the players.

Absolutely Clueless. Get him out now

Just saw the Ramires dive. 😆

Diving against Derby.

That's commitment.

Everyone forgotten Barkley in their WC teams. Cheap, nailed on and in the thick of a lot of their attack

Coleman: check.
Lukaku: check.

Baines: maybe.

Enough Everton for me.

Always a risk of rotation, wouldn't call him nailed on. But I got him for 4.7 and it'll be hard to let him go.

The problem is that he is not quite a 4th MF but a bit expensive for a 5th MF

We at newcastle have half season strikers

He's not Senegalese enough

"Greek striker Konstantinos Mitroglou suffered a similar injury for Olympiakos at the end of November, and hasn't played since -with the prognosis for strained knee ligaments around a month."

Hereisthecity on Wally. That is very comforting to hear.



Hardly surprising when you don't post the link.

How inconsiderate.

Will Aguero be back this weekend? Secondly,are you opting for a 3 4 3 or 3 5 2 in WC team?

Isn't it true that if you take out 1 or 2 world class players from any team, they struggle.

Bale leaves Spurs and even with 100m in spending they struggle
United without RVP
Liverpool without Suarez
Even City without Yaya against Palace

Seems like there's an over reliance on a handful of top players than turn an average team into a top team

It is, but it's almost like football is now about a handful of world class players and everyone else just fills in.

Liverpool played well without Suarez for a whole

Our record without Suarez is actually pretty good, Granny.

Liverpool didn't struggle without Suarez?
And for Utd I can say their best three players last season were Carrick, Rafael, and RVP so it's not just RVP who's been missing, it would be the equivalent of City not having Aguero, Yaya and Kompany.
Imo the top players add to an already good team or team set up specifically to get the best out of them, I think Bale is the only case where most of his goals were individual efforts as he usually picked the ball up 50 yards away from goal rather than being set up for a tap in

Over a long period of time they would struggle.

Just having a player like RVP in the side makes the difference to lots of players.

I'd say that when Ronaldo left United, it made the side half as effective. They just had to adapt to cope with life without him.

I'm not criticising any team, I'm just saying that world football is mostly about a handful of top players.

Yup you're right just like the Ozil effect on Arsenal, RVP simply being in the team raised a lot of players at Utd.
Yeah I remember a stat I read that Utd actually had more points and goals the season after Ronaldo left! someone usually steps up, that season it was Rooney and surprisingly Nani who played really well

New Post

sorry if this has been discussed before...but Round 4 of the FA cup set to be played on 25th Jan - when are the PL games set to be moved to? Room to have in the same gameweek, or are we looking at a double?

Cheers

The prem games are midweek.

No games on that weekend.

Guys ur thoughts on my WC team....? :

Migs. Davies.
Zab. Kosc. Williamson. Ward. Chester.
Wally. Haz. Silva. Cabaye. Colback.
Suarez. Rooney. J rod.

What do u think......? And what about Wally, Cabaye and Rooney will they b available for next gw....?

But aguero is not returned right......??

Mannone
Evans / Mertesacker / Coleman
Silva / Walcott (c) / Hazard / Sterling
Lukaku (vc) / Suárez / Rodriguez

Boruc / Meyler / Chester / Ward

0FT, 6.5M in the bank

Shall I take a hit and bring in a Walcott replacement, or play Chester v Chelsea?

I'm considering the hit for either Ozil or Yaya

HI,
RMT please - any thought or recommendations for improvements?

0FT and 0 in the bank

Mannone (Davis)
Coleman, Kosc, Sagna (Ward & Chester)
Hazard, Eriksen, Yaya Toure, Ozil (Livermore)
J-Rod, Rooney, Suarez(C)

Not sure about Rooney but will probably decide later in the week when we know more...

Cheers

Mos

Hi,

Have used WC and currently sitting on this:

Mannone / Gazzaniga
Mert / Coleman / Evans (Ward / Chester)
Yaya / Hazard / Eriksen / Coutinho (Ramsey)
Suarez (c) / Lukaku / Adebayor

Other than being a bit shoddy in goal are they any suggestions for improvement?

Cheers

That's it. One final RMT before I sign off. After a whole week of deliberation, this is what I have come up with on the WC.

Boruc (Davis)
Coleman, Terry, Kos (Ward & Chester)
Hazard, Ozil, Silva, Gerrard (Noone)
Negredo, Adebayor, Suarez(C)

0.1 ITB.
I have plenty of heavy hitters to downgrade to upgrade Negredo to Aguero. Any final thoughts guys? Good to go?
Scout Picks
Gameweek 25
Janmaat

Williams

Alderweireld
Wijnaldum

André Ayew

Dele Alli

Roberto Firmino

Sánchez
From the Community…
Comments
Hot Topics
Articles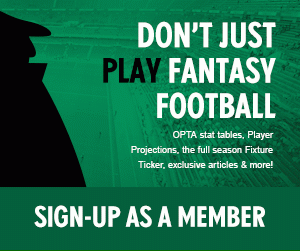 The Watchlist
Goalkeepers
Player
Club
Factors

Up

Forster
SOT

A

,

Vs

Down

Butland
STO

C

,

Vs

Up

Schmeichel
LEI

A

,

Vs

Up

Courtois
CHE

B

,

Vs

No Change

Boruc
BOU

B

,

Vs

Up

Hennessey
CPL

C

,

£

No Change

Cech
ARS

A

,

VsX

Up

Fabianski
SWA

B

No Change

De Gea
MUN

B

No Change

Adrián
WHM

B
Defenders
Player
Club
Factors

Up

Fuchs
LEI

A

,

Vs

,

£

Up

van Dijk
SOT

A

,

Vs

Up

Daniels
BOU

A

,

Vs

,

£

Up

Dann
CPL

A

No Change

Ivanovic
CHE

B

,

Vs

No Change

Alderweireld
TOT

B

No Change

Bellerín
ARS

B

,

VsX

Up

Johnson
STO

C

,

Vs

No Change

Cresswell
WHM

B

Up

Van Aanholt
SUN

A

No Change

Williams
SWA

B

,

£

Up

Smalling
MUN

C

Up

Coleman
EVE

B

,

Vs

Down

Dawson
WBA

C

Down

Moreno
LIV

C

,

Vs

Down

Kolarov
MCI

B

,

Rest

,

Inj
Midfielders
Player
Club
Factors

Up

Mahrez
LEI

A

,

Vs

No Change

Payet
WHM

B

,

Vs

No Change

Dele Alli
TOT

A

,

Inj

Up

Arnautovic
STO

C

,

Vs

,

Inj

No Change

Ozil
ARS

C

,

VsX

Up

Eriksen
TOT

A

Up

Antonio
WHM

A

,

Vs

,

Rest

,

£

Up

Sigurdsson
SWA

A

,

OoP

Down

Barkley
EVE

B

,

Vs

Down

Roberto Firmino
LIV

A

,

VsX

,

OoP

Down

Sánchez
ARS

C

,

VsX

Up

Lingard
MUN

B

,

Rest

,

£

Up

Khazri
SUN

B

Up

Oscar
CHE

B

,

Vs

No Change

Wijnaldum
NEW

B
Forwards
Player
Club
Factors

Up

Vardy
LEI

B

,

Vs

No Change

Kane
TOT

A

Down

Aguero
MCI

A

Up

Diego Costa
CHE

A

,

Vs

,

Inj

Up

Rooney
MUN

A

Down

Ighalo
WAT

C

,

VsX

Down

Lukaku
EVE

C

Up

Afobe
BOU

A

,

Vs

No Change

Giroud
ARS

B

,

VsX

,

Rest

No Change

Defoe
SUN

A
Selection Factors
| | |
| --- | --- |
| A, B, C | Current Form |
| Vs | Favourable Fixtures |
| VsX | Unfavourable Fixtures |
| Rest | Rotation Risk |
| Inj | Injured/Returning from Injury |
| OoP | Out of Position |
| £ | Potential Bargain |
| Sus | Suspended/Near Suspension |
| Player | Team | YC |
| --- | --- | --- |
| Colback | NEW | 9 |
| Byram | WHM | 9 |
| Lucas | LIV | 8 |
| Jones | SUN | 8 |
| Yacob | WBA | 8 |
| Westwood | AVL | 7 |
| Diego Costa | CHE | 7 |
| Huth | LEI | 7 |
| Can | LIV | 7 |
| Mangala | MCI | 7 |
| Shelvey | NEW | 7 |
| Pieters | STO | 7 |
| Dele Alli | TOT | 7 |
| Dier | TOT | 7 |
| Noble | WHM | 7 |
"All players will blank a few times during the season. When almost all do it in the same Gameweek, it is tough to take, but that's just the dark side of probability."

Abreu 42 Community regular