As you may have seen in the sidebar, we've updated The Watchlist for Gameweek 3 and beyond.
In this article series, we take a look at the stand-out Fantasy Premier League (FPL) players over the medium term.
This is in contrast to the Scout Picks, which deals only in the upcoming Gameweek.
MORE ABOUT THE WATCHLIST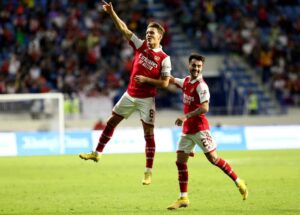 We rank players according to factors such as club injuries, forthcoming fixtures, Rate My Team's points projections and whether or not the player in question is likely to be a bargain in FPL.
'Form' also comes into the equation after the season kicks off.
Arrows before the name indicate whether a player has increased in appeal or fallen in our reckoning since the previous Gameweek or if they are a new entry into the tables.
The key for the factors you'll see in the below tables is as follows: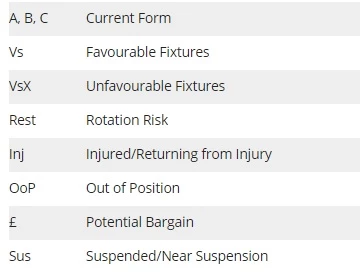 THE WATCHLIST: CURRENT RANKINGS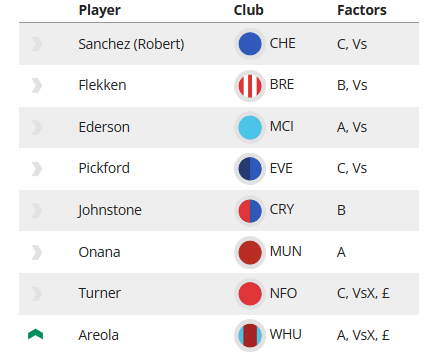 THE WATCHLIST: NOTABLE CHANGES
NEW ENTRIES AT EITHER END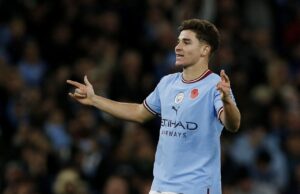 There's precious little movement at either end of the pitch.
In our goalkeeper Watchlist, we've merely added Alphonse Areola (£4.0m) now that it seems apparent that David Moyes is going to favour him between the posts going forward.
Like Matt Turner (£4.0m), however, he remains low down the pecking order due to some unfavourable fixtures in the medium term.
But if you're after a goalkeeper from the lowest price rung, either as part of a rotation or as mere bench fodder, these are the only two starters at present.
Robert Sanchez (£4.5m), Rate My Team's (RMT) top projected points scorer among goalkeepers over the next six Gameweeks, retains top spot in readiness for Chelsea's favourable fixture swing.
Up top, Julian Alvarez (£6.6m) and Carlton Morris (£5.5m) are the new additions – again, relatively low down the forwards' Watchlist.
Alvarez averages 6.2 points per start in his Manchester City career, delivering 13 attacking returns in his 15 line-up appearances under Pep Guardiola. Kevin De Bruyne's (£10.3m) injury boosts his game-time prospects but let's not get carried away too much, as Bernardo Silva (£6.4m) is due back from illness this week and Jeremy Doku is incoming from Rennes. So soon we will have Bernardo, Doku, Alvarez, Mateo Kovacic (£5.0m) and Phil Foden (£7.6m) effectively competing for three spots, assuming that Erling Haaland (£14.0m) isn't going anywhere up top. The versatile Foden is also competition for Jack Grealish (£7.4m) on the left flank, of course.
Minutes is something Morris can guarantee, albeit in a team that will do well to score half the goals that City will plunder in 2023/24. Luton Town's talisman played a part in just under 50% of the goals that the Hatters scored in their promotion-winning campaign and is now on penalties, as well as enjoying a mostly favourable run of matches from Gameweeks 4-9.
GABRIEL + STONES REPLACEMENTS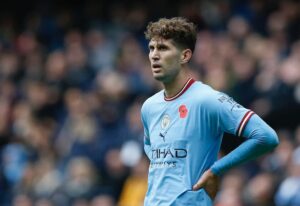 With the Watchlist being a midweek affair, we subsequently lost John Stones (£5.3m) to another injury after the Gameweek 2 update.
Gabriel Magalhaes (£4.9m), who went into the new campaign on a 73-match starting streak, was also named among the substitutes for the second successive Gameweek.
Both are now gone from the defenders' Watchlist. Gabriel may well start in Gameweek 3 but if the horses-for-courses defensive selections continue from Mikel Arteta, we're going to be constantly looking over our shoulders for the next Gabriel benching.
As it happens, now's perhaps not the ideal time to pounce on an Arsenal defender anyway. William Saliba (£5.2m) is in for Gabriel in our Watchlist but well down the rankings; the Gunners face four big-six sides between now and Gameweek 9.
Ruben Dias (£5.5m) and Destiny Udogie (£4.5m) are the other new entries. Reservations about Spurs' clean-sheet prospects under the attack-minded Ange Postecoglou and the distinct possibility of Ben Davies (£4.5m) eating into Udogie's game-time keep the young left-back low down for now. But decent upcoming fixtures and some attacking potential (he's joint-fourth among defenders for final-third touches) mean that he tentatively enters the radar.
There are no such reservations about the calibre of City's backline. A regular starter when fully fit last season (substitute duties tended to come off the back of an injury or when the title was as good as sealed), Dias has frequently been the mainstay in Guardiola's defence. A benching will inevitably happen at some point but there should be more starts than not while the season is relatively young.
MIDFIELD SHAKE-UP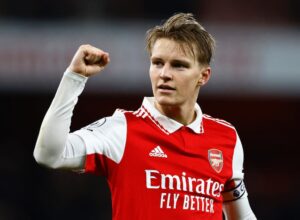 The biggest shake-up this week comes in midfield.
Ordering this motley crew of underachievers and early-season bandwagons is proving to be the toughest weekly test, by some distance.
Martin Odegaard (£8.5m) taking penalties off Bukayo Saka (£8.6m) in Gameweek 2 was a potentially seismic moment. Odegaard rises modestly as a result but Saka retains the top spot despite this blow: the Gunners have four home matches in the next six Gameweeks and Saka was well clear of the Dane for xG at the Emirates in 2022/23, even discounting spot kicks.
Arsenal's upcoming five-match run is actually better than it looks from an attacking perspective. Manchester United have been awful in big-six away games under Erik ten Hag (played six, won none, conceded 21), while Spurs are all about the front-foot football under Ange Postecoglou.
Phil Foden (£7.6m) has an even better five-match run coming up, with RMT putting him narrowly above the penalty-taking, free-scoring Bryan Mbeumo (£6.7m) for 'value' – even accounting for the minutes risk. Foden averaged 5.6 points per start in 2022/23, a better average than even Saka. Few midfielders can match him when his starting prospects are heightened, as they are now.
Gameweek 3 will represent a last hurrah for some FPL managers when it comes to Man Utd and Brighton midfielders. Five of the Seagulls' subsequent six fixtures are against teams that qualified for Europe last season, while United then face Arsenal, Brighton, Palace and Brentford – not sides that are routinely well beaten – before the October break. Marcus Rashford (£9.0m) and Kaoru Mitoma (£6.6m) drop a tad, then, even if it's flying in the face of form in the latter's case.
The one new entry is Raheem Sterling (£7.0m) ahead of Chelsea's favourable fixture run. The bare stats don't make for pretty reading: one shot and two chances created in 2023/24 so far. But his Gameweek 2 performance was eye-catching and he looks more like his old self under Mauricio Pochettino. No midfielder has had as many penalty-box touches this season, while Sterling also won the penalty that Enzo Fernandez (£5.0m) spurned against West Ham United.